HAIL TO ENGLAND, AGAIN!
Manowarriors, your calls have been heard! MANOWAR will perform not one but two shows on their FINAL BATTLE 2019 World Tour on English ground!
The confirmed dates are
Friday, April 19, 2019 – O2 Academy – Birmingham, UK
Saturday, April 20, 2019 – O2 Academy – Birmingham, UK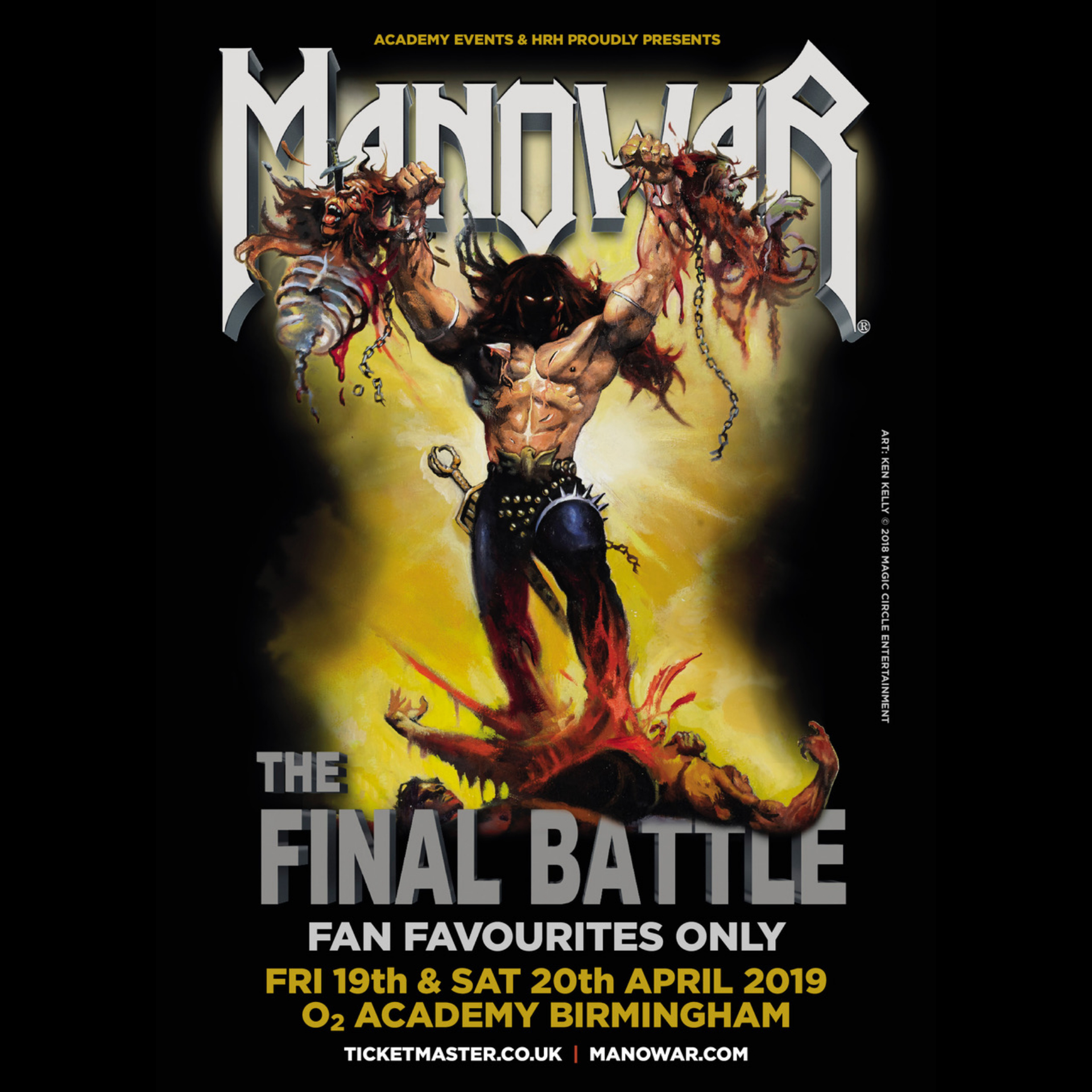 "Everyone knows that England holds a special place in MANOWAR history!" said Joey DeMaio. "Once again, the ground will shake by the might of our Army Of Immortals, just as we promised all loyal Manowarriors in the U.K."
What better city to perform these two exclusive shows than the birthplace of English Metal itself.
These will be the ONLY shows in the UK on this tour, so better get your tickets before it is too late!
Tickets will go on sale on November 14, 2018.
To get your tickets go to hrh.live (where you'll find the lowest booking fees).
Tickets will also be available at  ticketmaster.co.uk
A limited number of ULTIMATE FAN EXPERIENCE UPGRADES, for the most personal fan experience ever, are available on this tour!
ULTIMATE FAN EXPERIENCE UPGRADES are upgrades to the general admission tickets – this means owners of an ULTIMATE FAN EXPERIENCE UPGRADE must also hold a general admission ticket (sold separately).
Upgrades are available exclusively on The Kingdom of Steel (Europe).
To order your ULTIMATE FAN EXPERIENCE Upgrade click HERE
Follow MANOWAR on manowar.com , Facebook, Twitter and Instagram for all tour dates and constant updates.
Hail to England!
The Final Battle World Tour 2019 – Confirmed Tour Dates:
Mon, February 25, 2019 – Hangar 11 – Tel Aviv, Israel
Fri, Mar 1, 2019 – Expo Center – Novosibirsk, Russia
Sun, Mar 3, 2019 – Fetisov Arena – Vladivostok, Russia
Tue, Mar 5, 2019 – Erofey Arena – Khabarovsk, Russia
Thu, Mar 7, 2019 – Expo Center – Yekaterinburg, Russia
Sun, Mar 10, 2019 – MTL Arena – Samara, Russia
Tue, Mar 12, 2019 – Yubileyny Sports Palace – St. Petersburg, Russia
Thu, Mar 14, 2019 – VTB Dynamo Arena – Moscow, Russia
Sat, Mar 16, 2019 – KSK Express – Rostov-on-Don, Russia
Mon, Mar 18, 2019 – DS Olymp – Krasnodar, Russia
Thu, Mar 21, 2019 – Sports Palace – Kiev, Ukraine
Sat, Mar 23, 2019 – Sports Palace – Minsk, Belarus
Mon, Mar 25, 2019 – Hala Vodova – Brno, Czech Republic
Tue, Mar 26, 2019 – RT Torax Arena – Ostrava, Czech Republic
Fri, March 29, 2019 – Jahrhunderthalle – Frankfurt, Germany
Sat, March 30, 2019 – Westfalenhalle 1 – Dortmund, Germany
Mon, April 1, 2019 – Valby-Hallen – Copenhagen, Denmark
Wed, April 3, 2019 – Velodrom – Berlin, Germany
Fri, April 5, 2019 – Hanns-Martin-Schleyer-Halle – Stuttgart, Germany (rescheduled date)
Sat, April 6, 2019 – Zenith – Munich, Germany
Tue, April, 09, 2019 – Scandic Scene – Hamar, Norway
Wed, April 10, 2019 – Scandic Scene – Hamar, Norway
Fri, April 12, 2019 – Konserthuset – Stavanger, Norway
Sat, April 13, 2019 – USF Verftet – Bergen, Norway
Sun, April 14, 2019 – USF Verftet – Bergen, Norway
Tue, April 16, 2019 – Kulturhuset – Longyearbyen, Norway
Fri, April 19, 2019 – O2 Academy – Birmingham, UK
Sat, April 20, 2019 – O2 Academy – Birmingham, UK
Fri, June 21, 2019 – Hellfest – Clisson, France
Thu, July 18, 2019 – Gasklockorna – Gävle, Sweden