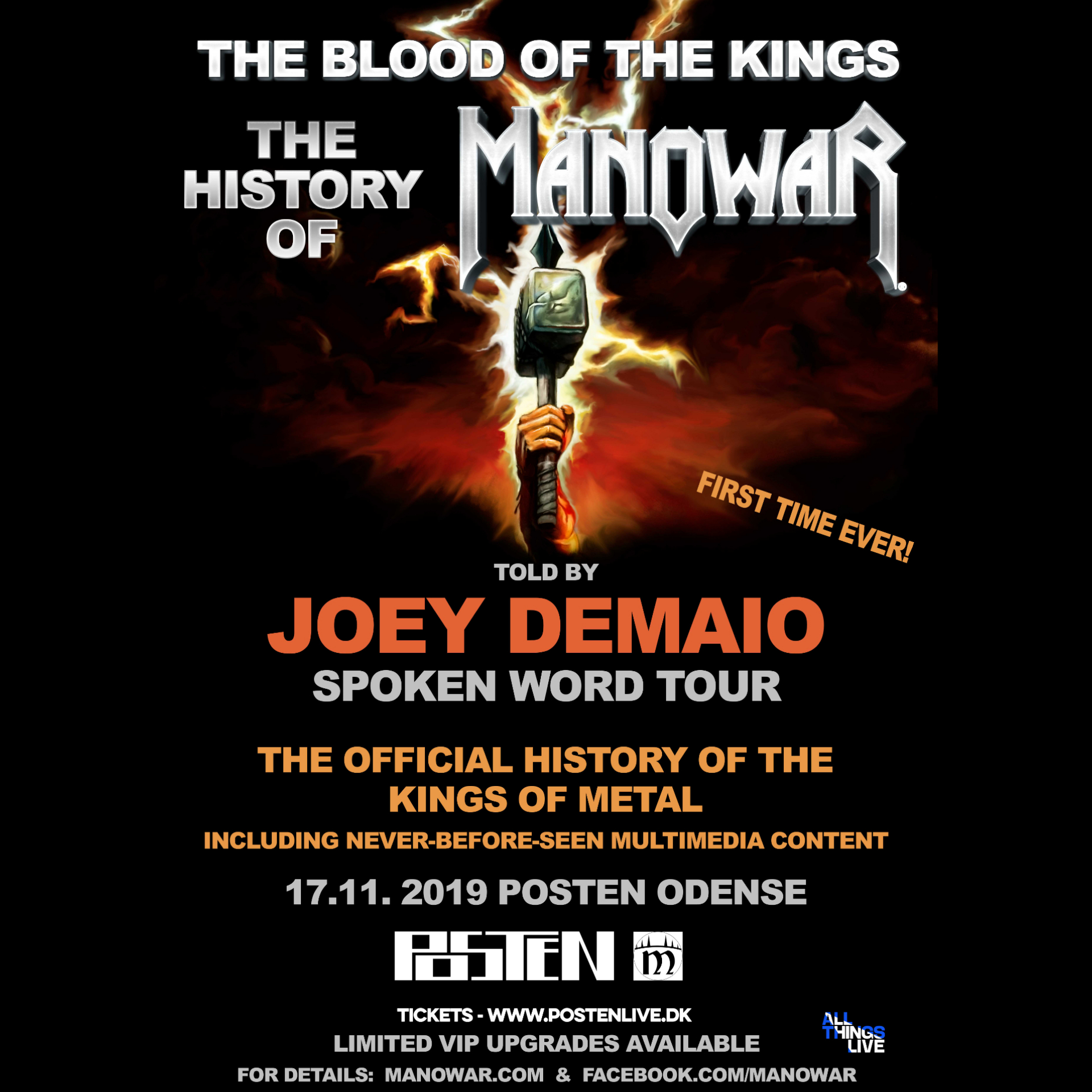 While MANOWAR's crushing "The Final Battle World Tour 2019" will soon celebrate its face-melting finale in Istanbul, Turkey on July 20, 2019 there is also great news for the fans in Denmark!
Joey DeMaio will bring his Spoken Word Tour, "The Blood Of The Kings", for an exclusive evening to Odense, Denmark. The event will take place on Sunday, November 17, 2019 @ Posten.
For the first time ever MANOWAR will open their vast archives and give their fans the chance to hear the official history of MANOWAR, straight from the source!
The glory and the battles; the secrets, and the triumph of steel; life on the road and in the studio – witness Joey DeMaio in an intimate setting unfold "The Blood Of The Kings" chapter by chapter; live, onstage and in person, in this captivating one-man multimedia show.
"The Blood Of The Kings" Spoken Word Tour is a rare, personal look inside the exceptional career of one of the most iconic, most enduring bands in Heavy Metal.
General Admission tickets for this event are now on sale on postenlive.dk
Ultimate Fan Experience (UFE) Upgrades that provide an even more in-depth experience will be made available soon, in limited quantities per event. Ultimate Fan Experience Upgrades will only be valid in connection with a General Admission ticket. Fans should secure their General Admission tickets immediately.
For ticket info and more go to www.manowar.com/tour
Joey DeMaio: "The Blood of The Kings" Spoken Word Tour 2019 – Confirmed Dates:
NOV 01, 2019 – Technikum – Munich, Germany
NOV 02, 2019 – Kleine Meistersingerhalle – Nuremberg, Germany
NOV 03, 2019 – Liederhalle (Silchersaal) – Stuttgart, Germany
NOV 04, 2019 – Batschkapp – Frankfurt, Germany
NOV 05, 2019 – Savoy Theater Dusseldorf, Germany
NOV 07, 2019 – Christuskirche – Bochum, Germany
NOV 08, 2019 – Kleine Laeiszhalle – Hamburg, Germany
NOV 09, 2019 – Tempodrom (Kleine Arena) – Berlin, Germany
NOV 10, 2019 – Haus Leipzig – Leipzig, Germany
NOV 12, 2019 – Kulturfabrik – Esch/Alzette, Luxembourg
NOV 13, 2019 – Palladium – Malmö, Sweden
NOV 14, 2019 – Södra Teatern – Stockholm, Sweden
NOV 17, 2019 – Posten – Odense, Denmark
For more info follow MANOWAR on manowar.com , Facebook, Instagram  and Twitter