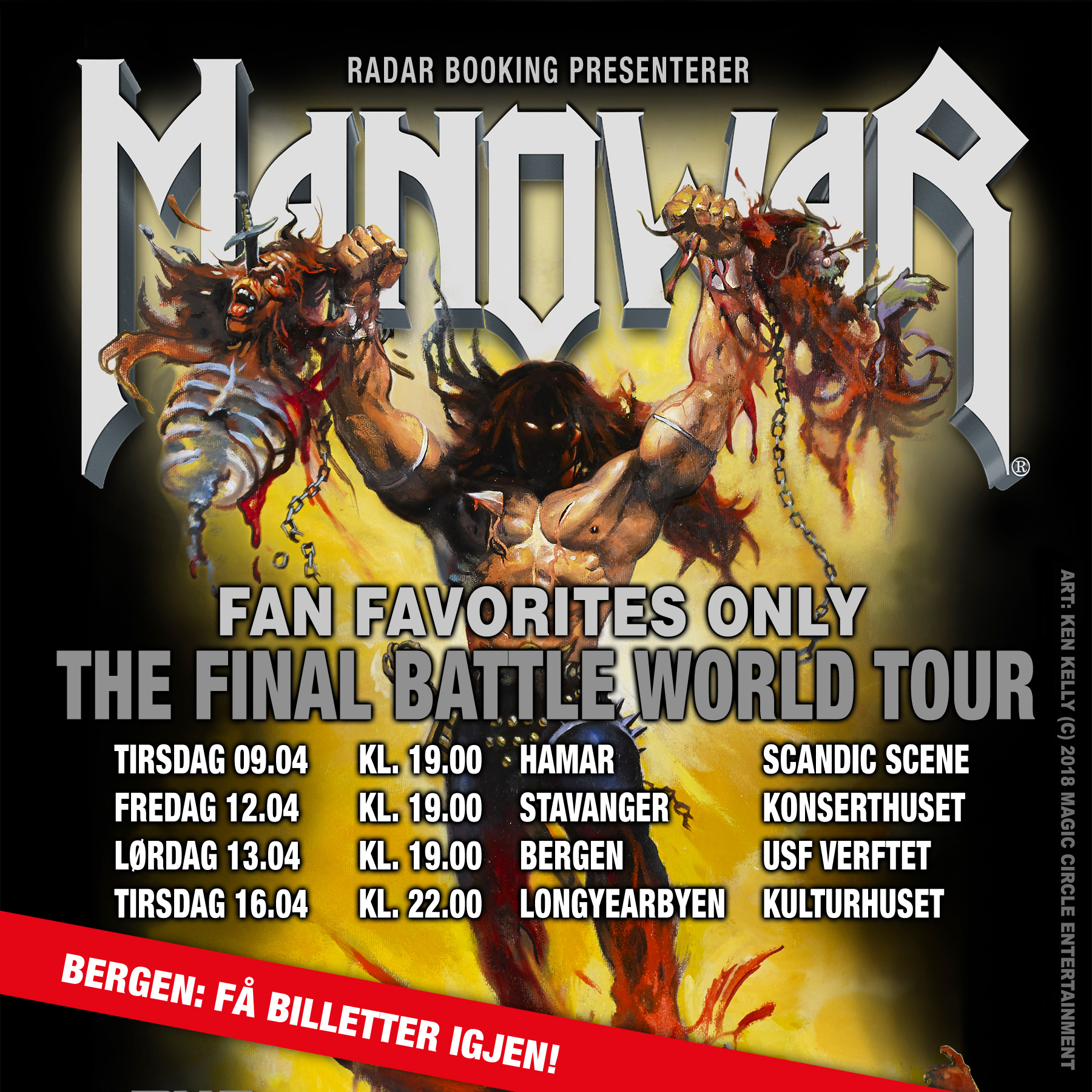 Due to unexpected logistical and production related requirements, some scheduling changes will take place with MANOWAR's shows in the Norwegian cities of Hamar and Bergen.
Fans who purchased tickets for MANOWAR in Hamar on April 10, 2019 can use them at the concert in Hamar on April 9, 2019 and tickets for Bergen on April 14, 2019 can be used for the concert in Bergen on April 13, 2019.  Alternatively, the tickets for April 10 and April 14 can be refunded. Please contact Ticketmaster at +47 22 82 81 97 for refunds.
All other Norwegian dates are unaffected.
The updated tour schedule for MANOWAR's upcoming shows in Norway:
Tue, Apr, 09, 2019 – Scandic Scene – Hamar, Norway
Fri, Apr 12, 2019 – Konserthuset – Stavanger, Norway 
Sat, Apr 13, 2019 – USF Verftet – Bergen, Norway
Tue, Apr 16, 2019 – Kulturhuset – Longyearbyen, Norway
>>>
SWEDEN
The MANOWAR concert scheduled for July 18, 2019 at Gasklockorna in Gävle will regrettably no longer take place.
Our teams have exhausted all possibilities of overcoming technical difficulties caused by the unexpectedly massive production on this tour; the weight and size of the band's equipment and new stage set are simply too great to accommodate at Gasklockorna.
Furthermore, we must guarantee compliance with all Swedish sound restrictions laws, which we found out would be nearly impossible based on the band's minimum PA size.
As a result we have decided to amicably cancel the performance since MANOWAR would not be able to provide their Swedish fans with the size and quality of concert they demand and deserve.
We will look into possibilities of a future show during the band's Final Battle Tour where the fans will be able to experience this production in full.
All ticket buyers will receive a refund automatically from Tickster within the next couple of days.