After just visiting Norway with their celebrated "The Final Battle World Tour 2019" MANOWAR have confirmed more good news for their Scandinavian fans: Joey DeMaio will bring his Spoken Word Tour "The Blood Of The Kings" for two exclusive events to Sweden:
November 13, 2019 @ Palladium, Malmö
November 14, 2019 @ Södra Teatern, Stockholm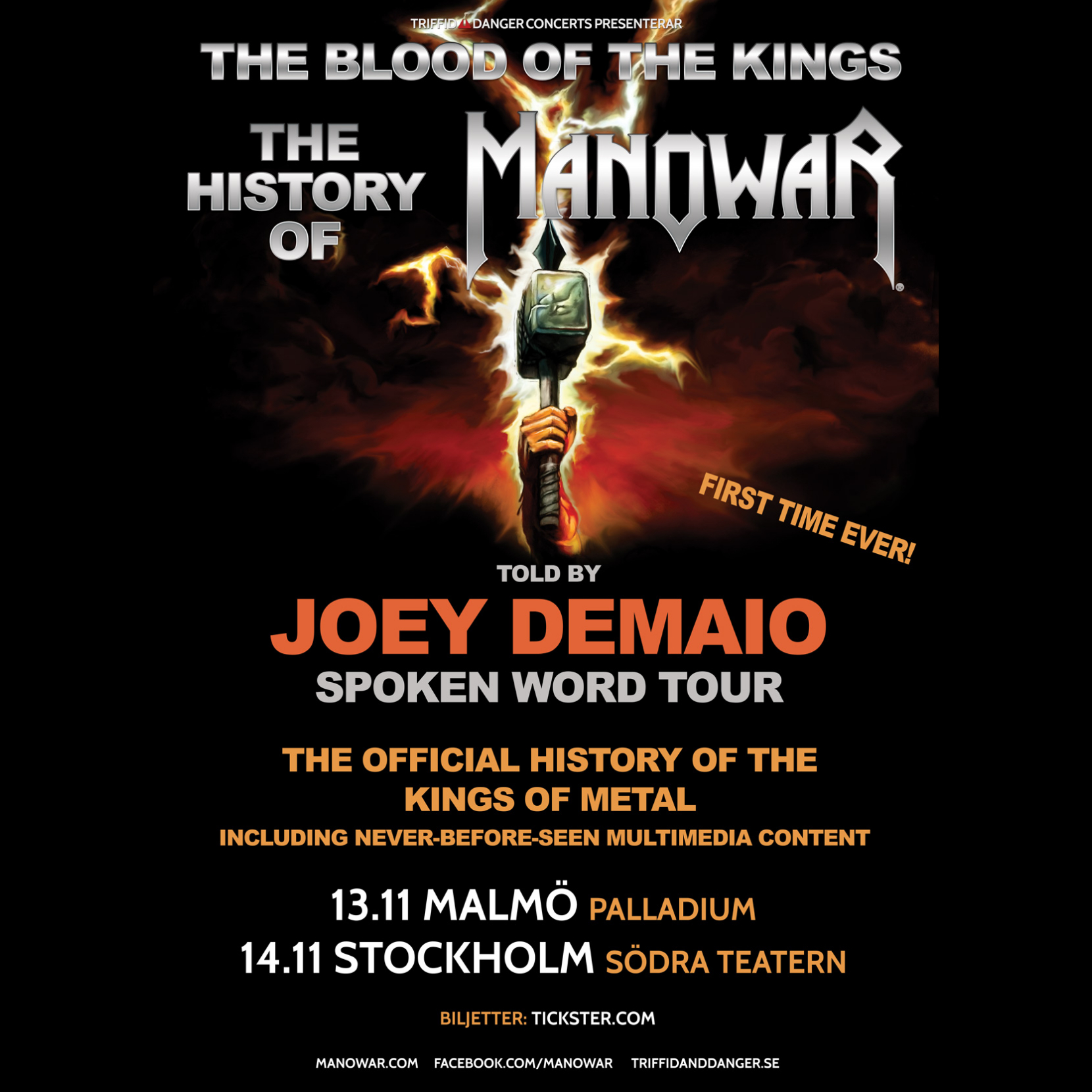 For the first time ever MANOWAR will open their vast archives and give their fans the chance to hear the official history of MANOWAR, straight from the source!
The glory and the battles; the secrets, and the triumph of steel; life on the road and in the studio – witness Joey DeMaio unfold "The Blood Of The Kings" chapter by chapter; live, onstage and in person, in this captivating one-man multimedia show.
"The Blood Of The Kings" Spoken Word Tour is a rare, personal look inside the exceptional career of one of the most iconic, most enduring bands in Heavy Metal.
General Admission tickets for "The Blood Of The Kings" Spoken Word Tour 2019 will go on sale on April 18, 2019 at 10AM local time through www.triffidanddanger.se
Ultimate Fan Experience (UFE) Upgrades that provide an even more in-depth experience will be made available soon, in limited quantities per show. Ultimate Fan Experience Upgrades will only be valid in connection with a General Admission ticket. Fans should secure their General Admission tickets immediately.
The Blood of The Kings – Spoken Word Tour 2019 – Confirmed Tour Dates:
NOV 01, 2019 – Technikum – Munich, Germany
NOV 02, 2019 – Kleine Meistersingerhalle – Nuremberg, Germany
NOV 03, 2019 – Liederhalle (Silchersaal) – Stuttgart, Germany
NOV 04, 2019 – Batschkapp – Frankfurt, Germany
NOV 05, 2019 – Savoy Theater Dusseldorf, Germany
NOV 07, 2019 – Christuskirche – Bochum, Germany
NOV 08, 2019 – Kleine Laeiszhalle – Hamburg, Germany
NOV 09, 2019 – Tempodrom (Kleine Arena) – Berlin, Germany
NOV 10, 2019 – Haus Leipzig – Leipzig, Germany
NOV 12, 2019 – Kulturfabrik – Esch/Alzette, Luxembourg
NOV 13, 2019 – Palladium – Malmö, Sweden
NOV 14, 2019 – Södra Teatern – Stockholm, Sweden
For more info follow MANOWAR on manowar.com , Facebook, Twitter and Instagram
>>>
MANOWARs Joey DeMaio kommer till Sverige med sin Spoken Word
Efter att ha avslutat en turné I Norge med sin framgångsrika show kommer nu MANOWAR med goda nyheter till sina skandinaviska fans: Joey DeMaio kommer med sin Spoken Word-föreställning "The Blood Of The Kings" till Sverige för två exklusiva föreställningar:
13 november 2019: Palladium, Malmö
14 november2019: Södra Teatern, Stockholm
För första gången någonsin kommer MANOWAR att öppna sina stora arkiv och ge fansen möljigheten att höra den officiella historien om MANOWAR, direkt från källan!
Framgångarna och striderna, hemligheterna, livet på turné och I studio – upplev Joey DeMaio berätta historien om "The Blood Of The Kings" i verkligheten på en scen I den här fängslande enmans-multimedia-showen.
"The Blood Of The Kings" Spoken Word Tour är en unik personlig inblick I den fantastiska karriären hos ett av hårdrockens mest ikoniska och långlivade band.
Biljeter till "The Blood Of The Kings" Spoken Word Tour 2019 släpps 18 april 10.00 via www.triffidanddanger.se.
För mer biljettinfo, gå till Manowar.com/tour.
Ultimate Fan Experience (UFE) finns tillgängligt som uppgradering. Där får du en ännu mer djupgående upplevelse. Ett starkt begränsat uppgraderingar kommer att finnas tillgängliga snart. Tänk på att du måste ha en normal biljett också.
 The Blood Of The Kings – Spoken Word Tour 2019 – bekräftade turnédatum:
NOV 01, 2019 – Technikum – Munich, Germany
NOV 02, 2019 – Kleine Meistersingerhalle – Nuremberg, Germany
NOV 03, 2019 – Liederhalle (Silchersaal) – Stuttgart, Germany
NOV 04, 2019 – Batschkapp – Frankfurt, Germany
NOV 05, 2019 – Savoy Theater Dusseldorf, Germany
NOV 07, 2019 – Christuskirche – Bochum, Germany
NOV 08, 2019 – Kleine Laeiszhalle – Hamburg, Germany
NOV 09, 2019 – Tempodrom (Kleine Arena) – Berlin, Germany
NOV 10, 2019 – Haus Leipzig – Leipzig, Germany
NOV 12, 2019 – Kulturfabrik – Esch/Alzette, Luxembourg
NOV 13, 2019 – Palladium – Malmö, Sweden
NOV 14, 2019 – Södra Teatern – Stockholm, Sweden
Följ MANOWAR på manowar.com, Facebook, Twitter och Instagram