Attention Manowarrios! MANOWAR have added two more dates to the FINAL BATTLE World Tour 2019!
The massive production packed with fan favorites, brand new multimedia content and other surprises will unfold on Monday, March 25, 2019 at Hala Vodova, Brno and on Tuesday, March 26, 2019 at RT Torax Arena, Ostrava.
Tickets will go on sale on November 5, 2018 on ticketstream.cz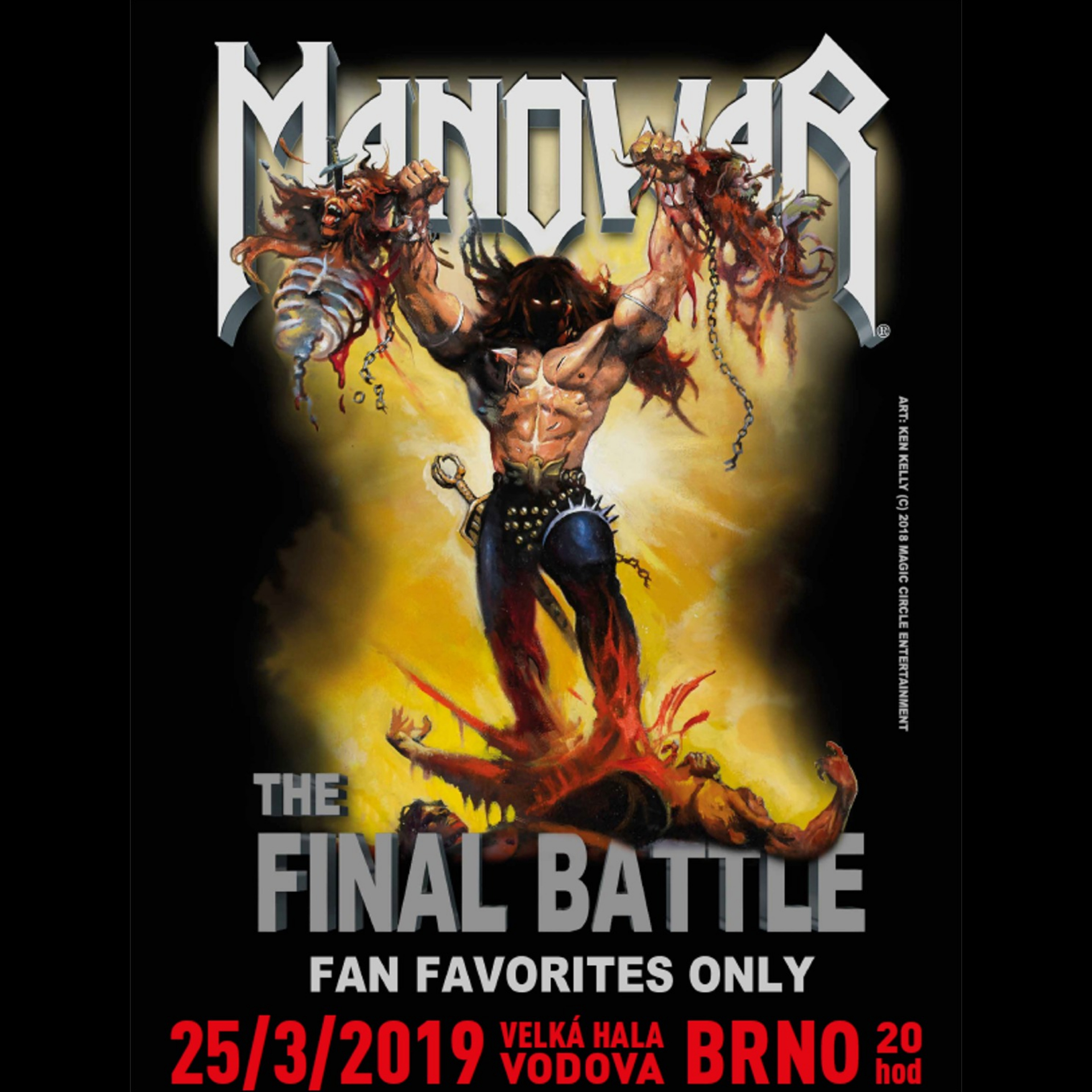 "The Czech Manowarriors have never failed us!" said Joey DeMaio. "We can't wait to return and unleash the massive production we are currently creating!  This tour will honor everything that unites MANOWAR and our worldwide Army of Immortals, in a battle that will write history!"
A limited number of ULTIMATE FAN EXPERIENCE UPGRADES, for the most personal fan experience ever, are available on this tour!
ULTIMATE FAN EXPERIENCE UPGRADES are upgrades to the general admission tickets – this means owners of an ULTIMATE FAN EXPERIENCE UPGRADE must also hold a general admission ticket (sold separately).
Upgrades are available exclusively on The Kingdom of Steel (Europe).
To order your ULTIMATE FAN EXPERIENCE Upgrade click HERE
Follow MANOWAR on manowar.com , Facebook, Twitter and Instagram for all tour dates and constant updates.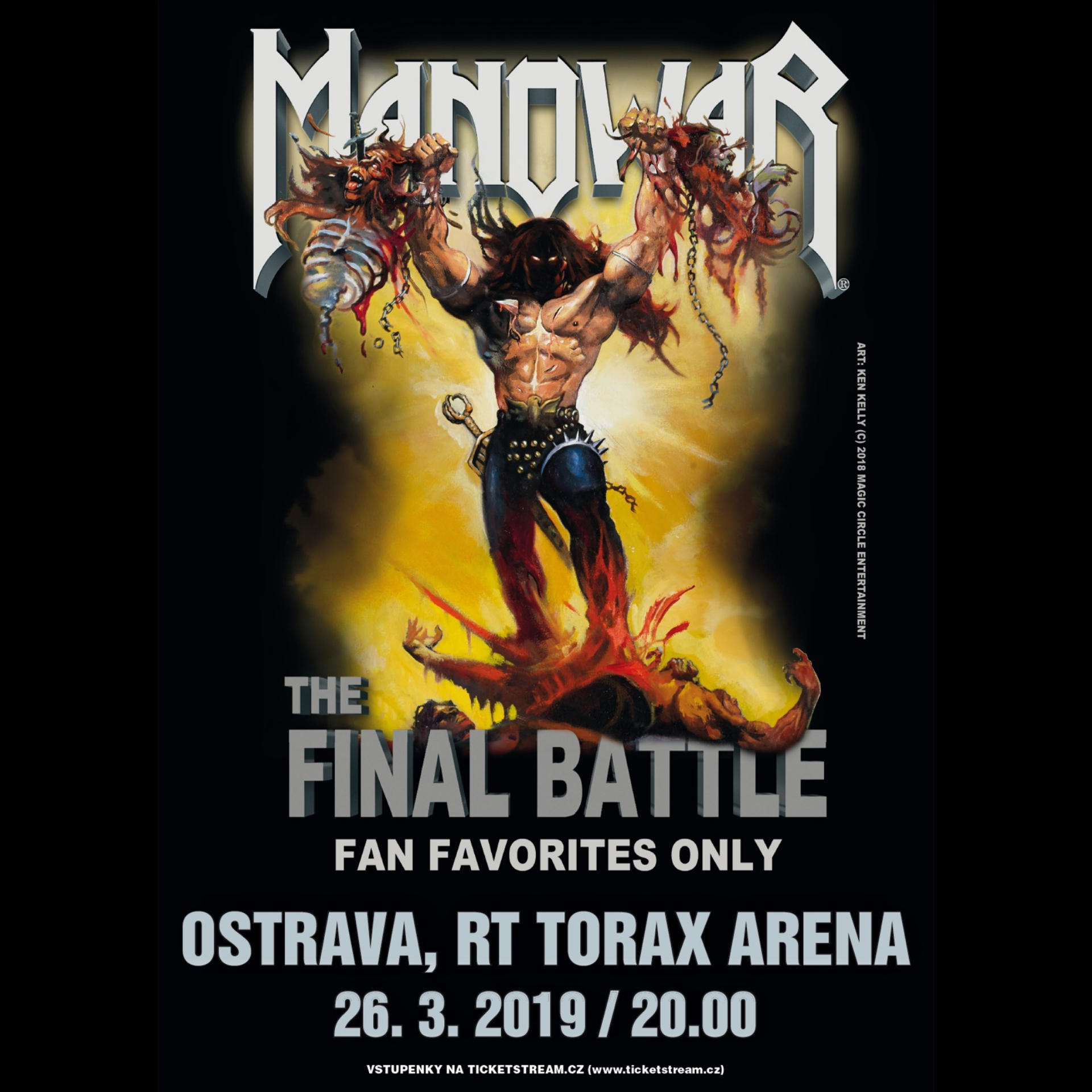 The Final Battle World Tour 2019 – Confirmed Tour Dates:
Mon, February 25, 2019 – Hangar 11 – Tel Aviv, Israel
Fri, Mar 1, 2019 – Expo Center – Novosibirsk, Russia
Sun, Mar 3, 2019 – Fetisov Arena – Vladivostok, Russia
Tue, Mar 5, 2019 – Erofey Arena – Khabarovsk, Russia
Thu, Mar 7, 2019 – Expo Center – Yekaterinburg, Russia
Sun, Mar 10, 2019 – MTL Arena – Samara, Russia
Tue, Mar 12, 2019 – Yubileyny Sports Palace – St. Petersburg, Russia
Thu, Mar 14, 2019 – VTB Dynamo Arena – Moscow, Russia
Sat, Mar 16, 2019 – KSK Express – Rostov-on-Don, Russia
Mon, Mar 18, 2019 – DS Olymp – Krasnodar, Russia
Thu, Mar 21, 2019 – Sports Palace – Kiev, Ukraine
Sat, Mar 23, 2019 – Sports Palace – Minsk, Belarus
Mon, Mar 25, 2019 – Hala Vodova – Brno, Czech Republic
Tue, Mar 26, 2019 – RT Torax Arena – Ostrava, Czech Republic
Fri, March 29, 2019 – Jahrhunderthalle – Frankfurt, Germany
Sat, March 30, 2019 – Westfalenhalle 1 – Dortmund, Germany
Mon, April 1, 2019 – Valby-Hallen – Copenhagen, Denmark
Wed, April 3, 2019 – Velodrom – Berlin, Germany
Fri, April 5, 2019 – Hanns-Martin-Schleyer-Halle – Stuttgart, Germany (rescheduled date)
Sat, April 6, 2019 – Zenith – Munich, Germany
Tue, April, 09, 2019 – Scandic Scene – Hamar, Norway
Wed, April 10, 2019 – Scandic Scene – Hamar, Norway
Fri, April 12, 2019 – Konserthuset – Stavanger, Norway
Sat, April 13, 2019 – USF Verftet – Bergen, Norway
Sun, April 14, 2019 – USF Verftet – Bergen, Norway
Tue, April 16, 2019 – Kulturhuset – Longyearbyen, Norway
Fri, June 21, 2019 – Hellfest – Clisson, France
Thu, July 18, 2019 – Gasklockorna – Gävle, Sweden
>>>
METALOVÁ LEGENDA MANOWAR PŘIDÁVÁ KONCERTY V BRNĚ A OSTRAVĚ THE FINAL BATTLE WORLD TOUR 2019
Americká metalová legenda MANOWAR přidala do svého světového turné s názvem The Final Battle 2019 další dvě zastávky.
Aktuální část turné v tuto chvíli zahrnuje bezmála 30 koncertů, mimo jiné v Izraeli, Rusku, Francii, Německu, Norsku nebo Švédsku.
Gigantickou metalovou podívanou s klasickými songy MANOWAR doplněnou o jedinečnou multimediální show představí kapela také českým fanouškům, a to 25. března v Brně v Hale Vodova a o den později, 26. března v RT Torax aréně       v Ostravě.
"Fanoušci v Česku nás nikdy nezklamali a nesmírně si vážíme jejich podpory a dlouholeté oddanosti" řekl Joey DeMaio, zakladatel, baskytarista a frontman kapely.
"Moc se na oba koncerty v Česku těšíme, velikostí naší produkce budou fanoušci určitě nadšeni. Toto turné je bezpochyby jedním z našich nejvýznamnějších a věříme, že na něj budou naši oddaní metaloví "bojovníci" dlouho vzpomínat".
Pro toto turné bude k dispozici také omezený počet fanouškovských balíčků dostupných pouze na oficiálních webových stránkách kapely (www.manowar.com).
Vstupenky na koncerty MANOWAR v Brně a Ostravě budou v prodeji od pondělí   5. listopadu exkluzivně v síti Ticketstream.