MANOWAR have confirmed Friday, April 5, 2019 as the new date for their Stuttgart, Germany shows originally scheduled for December 15 and December 16, 2017 at Porsche Arena. The show will now take place at Hanns-Martin-Schleyer-Halle Stuttgart, a venue with the capacity to welcome all ticket holders of both original dates in one night.
All original tickets and ULTIMATE FAN EXPERIENCE Upgrades for THE FINAL BATTLE shows previously scheduled for December 15, 2017 and December 16, 2017 will be honored on Friday, April 5, 2019.
"MANOWAR with our promoter Lars Berndt EVENTS were able to secure Stuttgart's Hanns-Martin-Schleyer-Halle; a place where MANOWAR history was written before and will be written again! This show will be well worth the wait!" said Joey DeMaio.
But that's not all!
"Since the start of the tour we received countless pleas for additional shows, from fans who could not attend THE FINAL BATTLE World Tour 2017, or fans who were hungry to gather more immortal memories and share the power of true metal with their Brothers and Sisters of Steel." Joey DeMaio explained. "Our German Manowarriors have stood loyally by us from the beginning, and they deserve another chance for a farewell."
To all MANOWAR fans outside Germany: Stay Strong! We are working on bringing THE FINAL BATTLE to your countries, too.
Yet, it would not be MANOWAR if they didn't have another big surprise for their fans!
Alongside the rescheduled show for Stuttgart, MANOWAR have added 4 more dates to their last return to Germany! The confirmed dates for MANOWAR's final shows in Germany are:
Friday, March 29, 2019                     Frankfurt – Jahrhunderthalle
Saturday, March 30, 2019                 Dortmund – Westfalenhalle 1
Wednesday, April 3, 2019                 Berlin – Velodrom
Friday, April 5, 2019                           Stuttgart – Hanns-Martin-Schleyer-Halle (rescheduled show)
Saturday, April 6, 2019                      Munich – Zenith
THE FINAL BATTLE World Tour 2019 will break new ground yet again with the slogan FAN FAVORITES ONLY:
Each and every show will be different from the other shows. These 5 shows will be based on fans voting for their 5 favorite albums and their favorite songs from each of those albums. So, everyone will have a chance to see and hear and take part in these final shows. A truly unique farewell gift to the Greatest Fans In The World.
Details about the fan voting will soon be announced on manowar.com , Facebook and Twitter.
General admission tickets in LIMITED FAN PRINT are available exclusively at Lars Berndt EVENTS.
Links for General Admission tickets and further tour information are available on manowar.com/tour.
ULTIMATE FAN EXPERIENCE UPGRADES, for the most personal fan experience ever, are available in limited quantities on this tour!
ULTIMATE FAN EXPERIENCE UPGRADES are upgrades to the general admission tickets – this means owners of an ULTIMATE FAN EXPERIENCE UPGRADE must also hold a general admission ticket (sold separately).
Upgrades are available exclusively on The Kingdom of Steel (Europe) in a LIMITED NUMBER per show!
To order your ULTIMATE FAN EXPERIENCE Upgrade click HERE
Follow MANOWAR on manowar.com , Facebook and Twitter for constant updates.
The Final Battle World Tour 2019 – Upcoming Tour Dates:
Fri, March 29, 2019 – Jahrhunderthalle – Frankfurt, Germany
Sat, March 30, 2019 – Westfalenhalle 1 – Dortmund, Germany
Wed, April 3, 2019 – Velodrom – Berlin, Germany
Fri, April 5, 2019 – Hanns-Martin-Schleyer-Halle – Stuttgart, Germany (rescheduled date)
Sat, April 6, 2019 – Zenith – Munich, Germany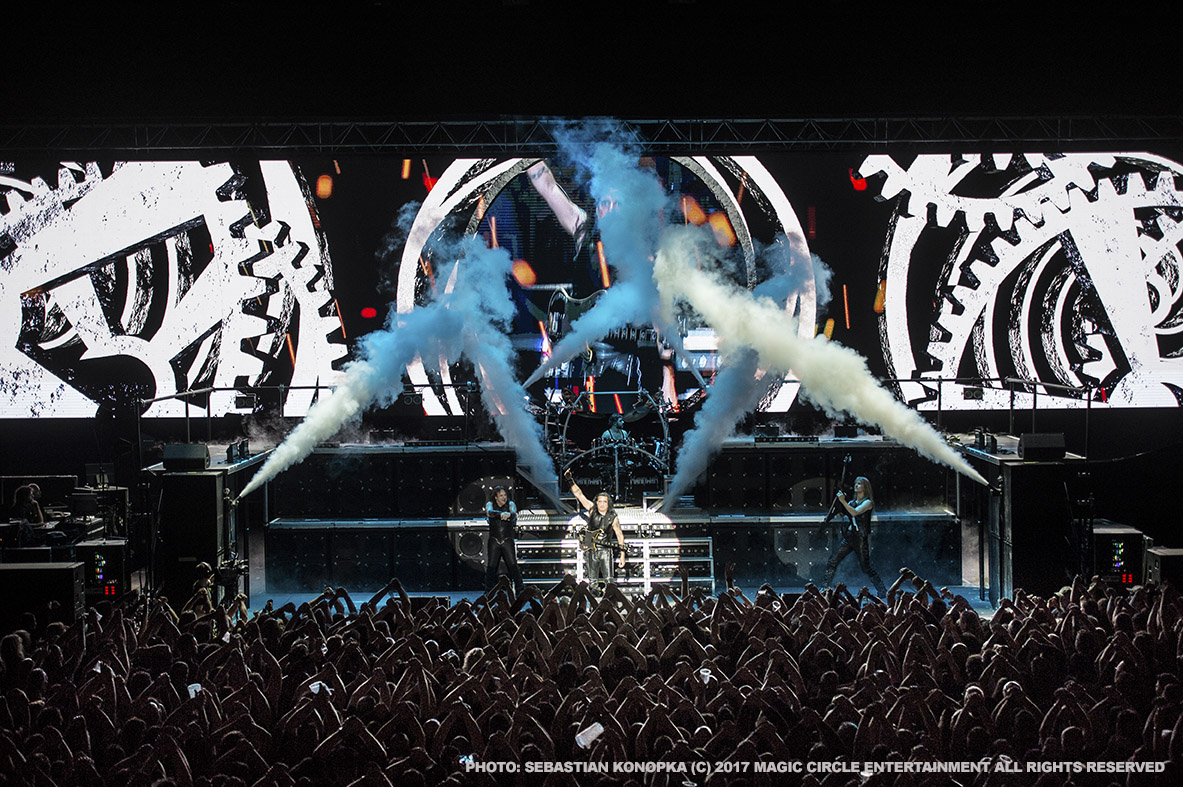 Photo: Sebastian Konopka (c) 2017 Magic Circle Entertainment All rights reserved