.
MANOWAR haben Freitag, den 5. April 2019 als Ersatz-Termin für ihre ursprünglich am 15. und 16. Dezember 2017 in der Porsche Arena geplanten Shows in Stuttgart bestätigt. Die Nachhol-Show findet nun in der Hanns-Martin-Schleyer-Halle Stuttgart statt; ein Veranstaltungsort mit der Kapazität alle Ticketinhaber beider Original-Termine an einem Abend zu begrüßen.
Alle Original-Tickets und ULTIMATE FAN EXPERIENCE Upgrades der THE FINAL BATTLE Shows, die für 15. und 16. Dezember 2017 terminiert waren, behalten für Freitag, den 5. April 2019 ihre Gültigkeit.
"Gemeinsam mit unserem Promoter Lars Berndt EVENTS konnten wir die Stuttgarter Hanns-Martin-Schleyer-Halle sichern – ein Ort an dem MANOWAR Geschichte geschrieben wurde und erneut geschrieben wird! Das Warten auf diese Show wird sich lohnen!" sagte Joey DeMaio.
Aber das ist nicht alles!
"Seit Beginn der Tour haben wir unzählige Bitten für zusätzliche Shows erhalten; von Fans die nicht an der FINAL BATTLE Tour 2017 teilnehmen konnten oder von Fans die hungrig sind weitere unsterbliche Erinnerungen zu sammeln und die Kraft des True Metal mit ihren Brothers and Sisters Of Steel zu teilen." erklärte Joey DeMaio. "Unsere deutschen Manowarriors haben uns von Anfang an loyal zur Seite gestanden und sie verdienen eine weitere Chance auf einen Abschied."
An alle MANOWAR Fans außerhalb Deutschlands: Bleibt stark! Wir arbeiten daran, THE FINAL BATTLE auch in eure Länder zu bringen.
Es wäre aber nicht MANOWAR, wenn sie keine weitere große Überraschung für ihre Fans hätten!
Neben der Nachhol-Show für Stuttgart haben MANOWAR 4 weitere Termine zu ihrer finalen Rückkehr nach Deutschland hinzugefügt! Die bestätigten Daten für die letzten MANOWAR-Shows in Deutschland sind:
Freitag, 29. März 2019 – Jahrhunderthalle – Frankfurt, Deutschland
Samstag, 30. März 2019 – Westfalenhalle 1 – Dortmund, Deutschland
Mittwoch, 3. April 2019 – Velodrom – Berlin, Deutschland
Freitag, 5. April 2019 – Hanns-Martin-Schleyer-Halle – Stuttgart, Deutschland (Nachhol-Termin)
Samstag, 6. April 2019 – Zenith – München, Deutschland
Die FINAL BATTLE World Tour 2019 wird mit dem Slogan FAN FAVORITES ONLY erneut neue Wege gehen:
Jede Show wird sich in der Songauswahl von den anderen Shows unterscheiden und auf einem Voting der Fans basieren, die dafür ihre 5 Lieblingsalben und ihre Lieblingslieder aus jedem dieser Alben wählen dürfen. Hiermit erhält jeder Fan die Chance, diese letzten Shows zu sehen und zu hören und aktiv daran mitzuwirken. Ein wirklich einzigartiges Abschiedsgeschenk an die besten Fans der Welt.
Details zum Fan-Voting werden in Kürze auf manowar.com, Facebook und Twitter bekannt gegeben.
Links zu allgemeinen Eintrittskarten und weitere Tour-Informationen gibt es unter manowar.com/tour.
ULTIMATE FAN EXPERIENCE (UFE) Upgrades, für die persönlichste Fan-Erfahrung aller Zeiten, sind auf dieser Tour in begrenzter Anzahl verfügbar! ULTIMATE FAN EXPERIENCE Upgrades sind Upgrades zu den allgemeinen Eintrittskarten; das bedeutet, dass Inhaber eines ULTIMATE FAN EXPERIENCE UPGRADE auch eine allgemeine Eintrittskarte (separat erhältlich) besitzen müssen.
ULTIMATE FAN EXPERIENCE Upgrades gibt es exklusiv im Kingdom Of Steel (Europe). Für UFE Upgrades klicke HIER
Limitierte Stehplatz Fan Tickets (General Admission Tickets) gibt es exklusiv bei Lars Berndt EVENTS.
Links für allgemeine Tickets und weitere Infos gibt es auf manowar.com/tour.
Folge MANOWAR auf manowar.com, Facebook und Twitter für regelmäßige Updates.
The Final Battle World Tour 2019 – Bestätigte Tour Termine:
Fr., 29. März 2019 – Jahrhunderthalle – Frankfurt, Deutschland
Sa., 30. März 2019 – Westfalenhalle 1 – Dortmund, Deutschland
Mi., 3. April 2019 – Velodrom – Berlin, Deutschland
Fr., 5. April 2019 – Hanns-Martin-Schleyer-Halle – Stuttgart, Deutschland (Nachhol-Termin)
Sa., 6. April 2019 – Zenith – München, Deutschland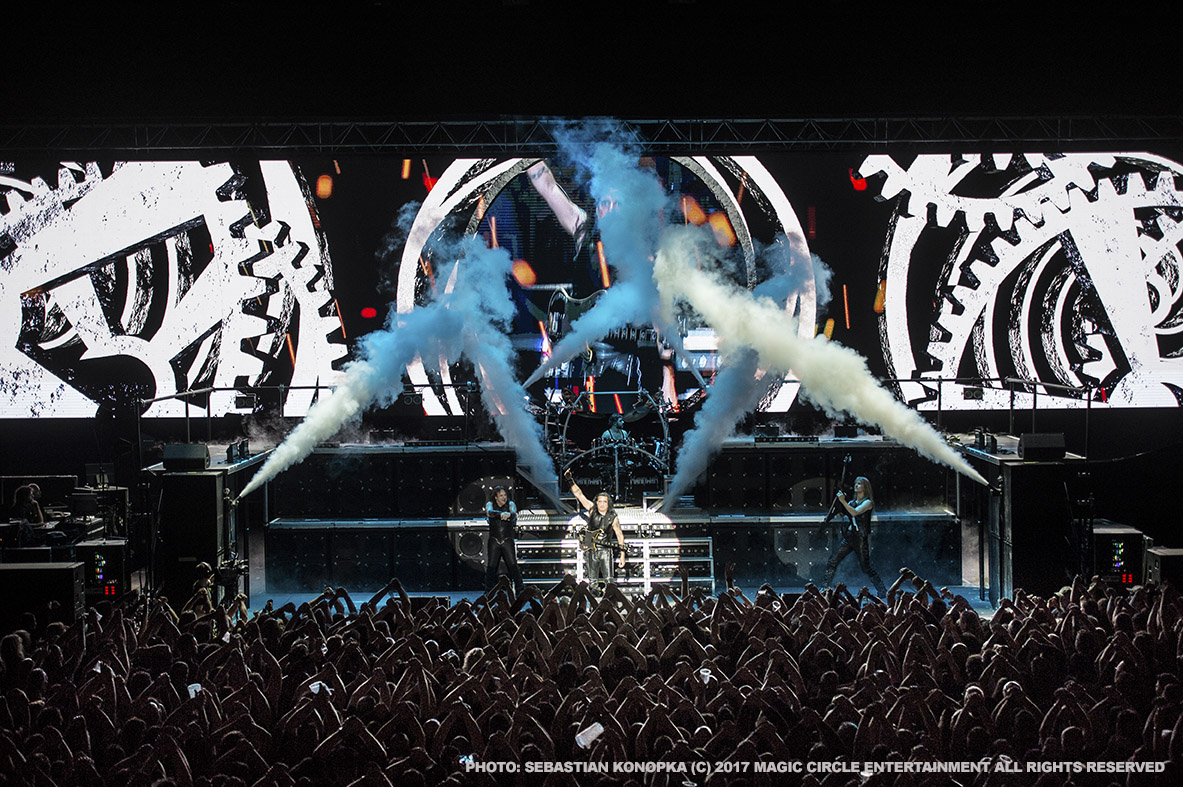 Photo: Sebastian Konopka (c) 2017 Magic Circle Entertainment All rights reserved