Joey DeMaio, leader of the American heavy metal band MANOWAR went on stage on Sunday night, on the closing night of Hellfest, with an announcement: his group will be in Clisson for his only and last concert in France. And prepare a new studio album … for 2019.
Five acts that will be in next year's lineup were revealed Sunday, shortly before midnight, after the Iron Maiden concert: Manowar, Slayer, Hysteria Mass, Dropkick Murphys and Carcass. Each of them sent a video message to the crowd.
But, by the applause-meter, Manowar easily won the popularity vote. All for the best, since the 64-year-old bassist and co-founder Joey DeMaio came on stage to make the announcement in person, staying … true to himself: "Do you think you've seen metal? It's really nothing next to what's waiting for you. MANOWAR is coming back! "
Despite touring across Europe on a regular basis, MANOWAR stops very rarely in the Hexagon: just five concerts in 20 years. The event is therefore of major importance. It will also be the band's only and last date in France.
Joey DeMaio gave an exclusive interview.
Your presence in France is very rare. Why have you been in Clisson tonight?
Joey: I've come here to announce that MANOWAR will return here in 2019, 10 years after our last show! That's a promise we have made to our French fans and I needed to give them this surprise tonight.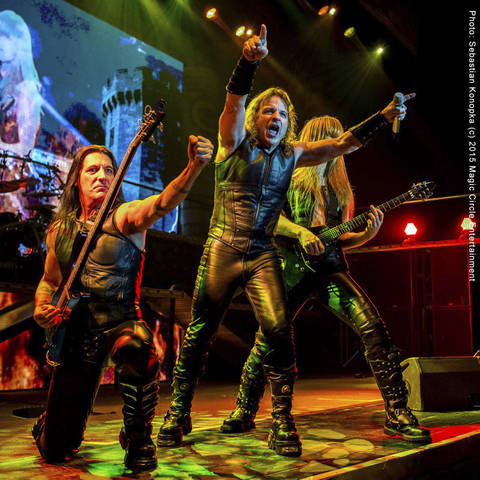 This will be the only date in France?
Joey: Absolutely. And it will be amazing, massive. Our final show in France!
What memories do you have from your last visit at Hellfest in 2009?
Joey: The French fans of MANOWAR had been waiting so much for us that it was incredible. And, ten years later, this fervor is intact. When I see these people who approach us, by email, or on the social networks, to ask us to play in France, it's really heartwarming. French fans have never let us down us. They have waited so long that we want to give them the show they deserve.
The festival has changed considerably since your last visit. He almost tripled in attendance. How do you find him today?
Joey: It has grown a lot and not only in terms of attendance. It is very nice to attend and observe. I think it's one of the most elegant festivals in the world. Without doubt, the French touch …
Elegant?
Joey: Yes! Everything is well proportioned, neat to the maximum, with a particular attention to a lot of small details. Look at the decorations, the statues! We are walking among works of artists! I know it will surprise some people, but Hellfest shows that a metal festival can be a showcase of beauty.
That's why you chose it to say goodbye in France?
Joey: Yes, it's the best festival in my eyes. With an exceptional team: Ben Barbaud (founder), Olivier Garnier (press officer), technicians, volunteers … all do a great job and put a lot of heart into it.
For this last tour, fans can vote for the songs that will go into the setlist?
Joey: Exactly. We wanted to make this tour a little special, always honoring our fans.
There will be a surprise for France?
Joey: Obviously! But I do not say anything, otherwise it would not be a surprise!
The Final Battle Tour will really be your last tour?
Joey: Listen … we never said "never" to anything. But that's how we feel it today.
Can you tell us more about your "Spoken Word Tour" that you run in parallel?
Joey: It's very exciting! It's a way of telling fans the story of MANOWAR. I have been wanting for years. I'm talking about myself, the life of the group, there will be also documents, photos taken during the recordings sessions, but throughout moments in our lives outside studios and concerts as well. In short, the story of MANOWAR as we lived it, in a very personal way.
It will only be in Germany next year?
Joey: Not at all. I would like to bring it to Hellfest, for example.You never know!
Does MANOWAR have other projects?
Joey: We are currently in the studio, we are working on a new record.
A re-recording of one of your classics?
Joey: No, a new album, coming out next year.
Excellent news for fans, since the last one dates back to 2012.
Joey: And yes, it's another surprise for French fans!
Manowar, Judas Priest, Iron Maiden, Kiss …names on metal festival bills have 30 to 50 years of existence. Why is it that the new generations do not carry on at high performance level?
Joey: It's another time. To impose oneself as a big group has become much more complicated for a whole bunch of reasons. The music industry has changed. The "legendary" groups are called MANOWAR, Priest, Kiss … that's just the way it is.
Heavy metal "will never die," you say. But who will take over?
Joey: Nobody can take over for MANOWAR! There is only one. Who succeeded Bach, Beethoven or Mozart? To each his own path.
Why not play more in France? Fans sometimes feel abandoned compared to Germans, for example …
Joey: Because, unlike in Germany, we had a lot of trouble with the sound levels that the venues want to impose on us. This has been going on for years and French fans are suffering, I know. But every time we play, we get hit because we play too loud. But let them be! We are not going to start playing with a ridiculously weak sound. We are MANOWAR, we are the strongest, we are the most powerful. And that's why our public pays!
The "kings" of heavy metal
The "kings of metal", nothing less. To speak of them, MANOWAR always had substance for the expression. This band, born in 1980 on the American East Coast, went through the decades with one goal: to defend and carry high the colors of heavy metal. And that's no joke: in 1983, the members signed with their blood the contract with their record company …
Their trademark? Empowering and powerful music (the group entered the Guinness Book of Records in 1994 for having surpassed the 129dB in concert, and have repeatedly done "better" since), and a muscular, inspired by heroic fantasy. MANOWAR is also and above all the epic voice of singer Eric Adams and the Wagnerian compositions of Joey DeMaio, bassist and leader of the group, a true guru among the fans. Caricatural, for some. Worthy of worship, for others.
MANOWAR is performing in front of fan battalions around the world. In return, the group elevated their "Manowarriors" to the rank of fifth member of the band, regularly dedicating them songs. A kind of big family, with its rallying sign, the "hammer" (the left hand encircling the wrist of the right arm), raised high during the concerts, particularly during the Homeric sermons of Joey DeMaio. Confusing for the uninitiated …
Fans have been preparing the handkerchiefs, since the group has just begun its farewell tour. Unless…
Original article for our French speaking Manowarriors: https://bit.ly/2Khd93z