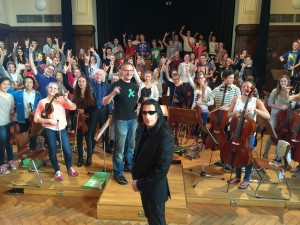 For their first German concert during the "Kings Of Metal MMXIV" World Tour in the new year MANOWAR have once again come up with something special.
Band leader and bassist Joey DeMaio announced during a press conference in Essen, Germany on October 1st that the U.S. metal rockers have invited the youth orchestra of Goetheschule Essen-Bredeney to perform on stage right before MANOWAR's "Kings Of Metal MMXIV" show on January 14, 2015 in Essen's Grugahalle.
For their performance in front of thousands of dedicated MANOWAR fans, the young musicians, who have garnered first stage experience through performances in the region, plan to play pieces from their own repertoire as well as orchestral versions of MANOWAR classics.
The Bredeneyer Schulorchester (Bredeneyer school orchestra) was formed in 1972. A cast of 80 to 100 musicians under the guidance of Dr. Marcus Schönwitz plays works from Wagner, Beethoven, Dvorák, Ravel and others, as well as popular music like the iconic title melody of sci-fi cult movie "Star Wars".
"We have invited this school orchestra to represent young musicians all over the world, to show us what they are passionate about. We have offered them the opportunity to reach an audience that we know understands the tremendous power of music, and that they have more in common with than they may imagine" explained Joey DeMaio.
"We want to encourage teenagers to pursue their goals, regardless what others say. Especially as a young adult you are often confronted with the harsh criticism of your peers, because in their eyes you are not "cool" enough. Because you go to choir or orchestra practice while they play soccer or do other things that are the current trend" said DeMaio, a doctor of music sciences and known Wagner aficionado.
"Following your path without doubt; standing up for what you believe in, no matter if it will gain you popularity or not… this is what MANOWAR and metal stand for, and this unites these young musicians with our MANOWAR fans.
Together we will make the Grugahalle shake on January 14, and show the world that music makes us strong, and is there for us when we need it. Like true brothers and sisters of metal will always be there for each other!"
MANOWAR have recently announced their return into the studio to work on their yet untitled new record and will resume their touring schedule in January 2015, among others with 3 exclusive shows in Germany; on January 14, 2015 at Grugahalle, Essen, on January 16, 2015 at Zenith, Munich and on January 17, 2015 at the sold out Jahrhunderthalle in Frankfurt/Main.
During the work on the new album the idea was born to invite young orchestra musicians, representative for teenagers and young adults everywhere, and to encourage them with this performance to pursue their dreams.
Ideas were quickly turned into deeds and without any hesitation the school orchestra of Essen's Goetheschule was invited to present themselves to the metal community during MANOWAR's concert on January 14, 2015 at Grugahalle Essen.
The "Kings Of Metal MMXIV" World Tour celebrates the 25th anniversary of the best-selling hit album from 1988 and the following "Kings Of Metal" World Tour, and is packed with the entire new "Kings Of Metal MMXIV" album, many other face-melting fan favorites, unique multi-media contents and other surprises.
For constant updates go to www.manowar.com and www.facebook.com/manowar
Kings Of Metal MMXIV World Tour – Confirmed Tour Dates:
Sat, October 18, 2014 – Loud Park Festival – Tokyo, Japan
Mon, January 12, 2015 – ČEZ Aréna – Ostrava, Czech Republic
Wed, January 14, 2015 – Grugahalle – Essen, Germany
Fri, January 16, 2015 – Zenith – Munich, Germany
Sat, January 17, 2015 – Jahrhunderthalle – Frankfurt, Germany (SOLD OUT)
Sun, January 18, 2015 – St. Jakobshalle – Basel, Switzerland
In Deutsch:
MANOWAR geben Essener Nachwuchs-Musikern eine neue Plattform
Für das erste Deutschland-Konzert im Rahmen ihrer "Kings Of Metal MMXIV" Welttournee im neuen Jahr haben sich MANOWAR wie so oft etwas Besonderes einfallen lassen.
Wie MANOWAR Bandleader und Bassist Joey DeMaio im Rahmen einer Pressekonferenz am 1. Oktober in Essen bekannt gab, haben die amerikanischen Metal-Rocker das Jugendorchester der Goetheschule Essen-Bredeney eingeladen, unmittelbar vor MANOWARs "Kings Of Metal MMXIV" Show am 14. Januar 2015 in der Essener Grugahalle aufzutreten.
Für ihre Aufführung vor Tausenden treuer MANOWAR Fans werden die jungen Musiker, die mit Auftritten in der Region bereits Bühnenerfahrung erlangt haben, neben Stücken aus ihrem eigenen Repertoire auch orchestrale Versionen beliebter MANOWAR Klassiker einstudieren.
Das Bredeneyer Schulorchester wurde 1972 gegründet und spielt unter der Leitung von Dr. Marcus Schönwitz mit einer Besetzung von 80-100 Nachwuchs-Musikern unter anderem Werke von Wagner, Beethoven, Dvorák und Ravel, aber auch Populärmusik wie die Titelmelodie des Sci-Fi Kultfilms "Star Wars".
"Wir haben dieses Schulorchester stellvertretend für junge Musiker auf der ganzen Welt eingeladen zu zeigen was sie begeistert. Wir bieten ihnen die Gelegenheit ein Publikum zu erreichen, von dem wir wissen dass es die unglaubliche Kraft der Musik versteht, und mit dem diese Jugendlichen mehr verbindet als sie sich vielleicht vorstellen können." erklärte Joey DeMaio.
"Wir wollen junge Menschen ermutigen ihre Ziele zu verfolgen, egal was andere sagen. Gerade als Jugendlicher wird man oft konfrontiert mit der harschen Kritik seiner Altersgenossen, weil man in deren Augen nicht "cool" genug ist. Weil man zum Beispiel zur Chor- oder Orchesterprobe geht während andere Fußball spielen oder machen was sonst gerade Trend ist." so DeMaio, selbst ein Doktor der Musikwissenschaften und bekennender Wagner-Fan.
"Unbeirrbar seinen Weg zu gehen; für das einzustehen woran man glaubt, egal ob man dadurch Popularität erringt oder nicht… das ist es wofür MANOWAR und Metal stehen und das vereint diese jungen klassischen Musiker mit unseren MANOWAR Fans. Gemeinsam werden wir am 14. Januar die Grugahalle zum Beben bringen und der Welt zeigen, dass Musik uns stark macht und für uns da ist, wann immer wir sie brauchen. So wie wahre Brothers und Sisters of Metal immer füreinander da sind!"
MANOWAR haben kürzlich ihre Rückkehr ins Studio bekanntgegeben, wo sie an ihrem noch nicht betitelten neuen Album arbeiten, und werden ihre Tour ab Januar 2015 fortsetzen, darunter mit drei exklusiven Konzerten in Deutschland, am 14. Januar 2015 in der Grugahalle, Essen; am 16. Januar 2015 im Zenith, München und am 17. Januar 2015 in der bereits ausverkauften Jahrhunderthalle in Frankfurt/Main.
Während der Arbeiten am neuen Album wurde die Idee geboren, junge Orchestermusiker – stellvertretend für junge Menschen überall in der Welt – einzuladen und mit dieser Aktion zu bestärken ihren Träumen zu folgen.
Ideen folgten Taten und so wurde kurzerhand das Schulorchester der Essener Goetheschule eingeladen, sich beim MANOWAR Konzert am 14. Januar 2015 der Metal Gemeinde zu präsentieren.
Die "Kings Of Metal MMXIV" Welttour feiert das Jubiläum des Bestseller Albums von 1988 und die anschließende "Kings Of Metal" Welttournee und ist vollgepackt mit dem kompletten neuen "Kings Of Metal MMXIV" Album, vielen anderen schmelzenden Fanfavoriten, einzigartigen Multimedia-Inhalten und anderen Überraschungen.
Für mehr Info und regelmäßige Updates:
www.manowar.com und www.facebook.com/manowar
Kings Of Metal MMXIV Welttour – Bestätigte Tourdaten:
Sa, 18. Oktober 2014 – Loud Park Festival – Tokio (Japan)
Mo, 12. Januar 2015 – ČEZ Aréna – Ostrava (Tschechische Republik)
Mi, 14. Januar 2015 – Grugahalle – Essen (Deutschland)
Fr, 16. Januar 2015 – Zenith – München (Deutschland)
Sa, 17. Januar 2015 – Jahrhunderthalle – Frankfurt/Main (Deutschland) AUSVERKAUFT
So, 18. Januar 2015 – St. Jakobshalle – Basel (Schweiz)