Due to circumstances beyond either the promoter's or MANOWAR's control, the band will be unable to perform at Loud Park Festival on October 18, 2014. The band will instead play 2 concerts at Zepp Diver City in Tokyo on October 29 and October 30, 2014.
The promoters of Loud Park Festival have announced that all details about tickets will soon be available on www.loudpark.com
Due to a huge fire at the Port Of Los Angeles last week the cargo vessel transporting MANOWAR's container to Japan was delayed, thereby arriving too late for the scheduled performance on October 18.
"MANOWAR's equipment is custom made and an irreplaceable part of our live performance.
From the guitars, to our speaker cabinets and everything else in between. It would have been unfair to our Japanese fans to consider a solution that would have been less than 100% MANOWAR," said Joey DeMaio.
The problems caused by the fire at the Port Of Los Angeles created such severe disruption that even the backup vessel couldn't make it on time for the festival.
"We, along with the promoters, worked around the clock to find a solution and we are happy that we found one which allows us to give the Japanese Manowarriors the full ass-kicking power of a real MANOWAR show," added DeMaio.
For constant updates go to www.manowar.com and www.facebook.com/manowar
Kings Of Metal MMXIV World Tour – Confirmed Tour Dates:
Wed, October 29, 2014 – Zepp Diver City – Tokyo, Japan (IN PLACE OF LOUD PARK FESTIVAL)
Thur, October 30, 2014 – Zepp Diver City – Tokyo, Japan (IN PLACE OF LOUD PARK FESTIVAL)
Mon, January 12, 2015 – ČEZ Aréna – Ostrava, Czech Republic
Wed, January 14, 2015 – Grugahalle – Essen, Germany
Fri, January 16, 2015 – Zenith – Munich, Germany
Sat, January 17, 2015 – Jahrhunderthalle – Frankfurt, Germany (SOLD OUT)
Sun, January 18, 2015 – St. Jakobshalle – Basel, Switzerland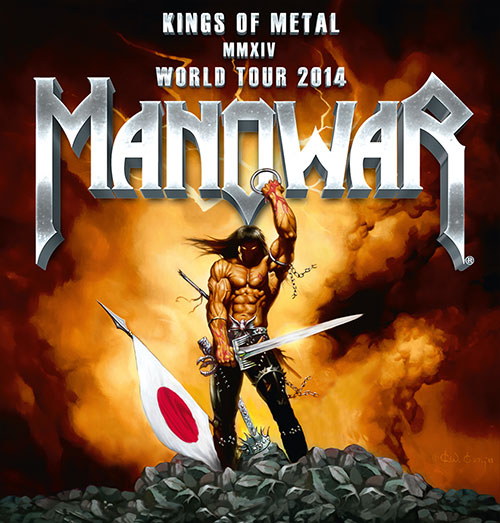 In Japanese:
ロサンゼルス港の火事によりMANOWARの再来日が日程変更
プロモーターやMANOWARの力が及ばない状況により、MANOWARは2014年10月18日のLoud Parkに出演することができなくなりました。バンドは代わりに2014年10月29日と10月30日に東京のZepp Diver Cityで2回のコンサートを行う予定です。
Loud Parkのプロモーターは、チケットに関するあらゆる詳細を発表しており、間もなくwww.loudpark.comで見ることができます。
「MANOWARの機材は特注で、我々のライヴパフォーマンスの掛け替えのない一部だ。ギターからスピーカーキャビネットまで、その他ありとあらゆるもの全てだ。100%のMANOWARに満たなくなる解決策を考慮することは、日本のファンにとって不公平となったであろう」とジョーイ・ディマイオは語っている。
ロサンゼルス港での火事によって引き起こされた問題は、非常に重大な混乱を生じたため、予備の船でさえもフェスティヴァルに間に合わなくなった。
「我々はプロモーターとともに、解決策を見つけるために昼も夜も働き、日本のManowarriorsに本当のMANOWARのショウの最高のパワーを与えることができる解決策を見つけて喜んでいる」とディマイオは付け加えた。