Vikings, behold! MANOWAR have confirmed SIX (!) shows in Norway for 2019.
Confirmed Norway dates are:
Tue, April, 09, 2019 – Scandic Scene – Hamar, Norway
Wed, April 10, 2019 – Scandic Scene – Hamar, Norway
Fri, April 12, 2019 – Konserthuset – Stavanger, Norway
Sat, April 13, 2019 – USF Verftet – Bergen, Norway
Sun, April 14, 2019 – USF Verftet – Bergen, Norway
Tue, April 16, 2019 – Kulturhuset – Longyearbyen, Norway
This tour leg includes another first for MANOWAR and their Fans: MANOWAR will play in Longyearbyen, the world's northernmost settlement in the world! Longyearbyen is located in Svalbard, an archipelago in the arctic ocean, about midway between continental Norway and the North Pole!
"We are ready to return as promised to True Metal Viking territory! They are a hungry for bone crushing, face melting metal, and that is what we will deliver!" said Joey DeMaio. "We are also excited about our first gig in the arctic circle. A polar night there lasts from October to February. We are very sure people will be ready to party when we get there in April. This will be a special event for our fans, and for band and crew alike."
THE FINAL BATTLE World Tour 2019 will feature FAN FAVORITES ONLY, with a set list based on a voting by MANOWAR's loyal fans.
"The feedback on the fan voting was overwhelming! Fan Favorites Only!" said Joey DeMaio. "We are in the process of putting together an ass-kicking set that honors our fans and their wishes."
General Admission tickets will go on sale on Monday, June 25, 2018 at 10:00 CET at the following locations:
Hamar, Bergen and Longyearbyen: www.ticketmaster.no
Stavanger: www.tix.no
Under 18 tickets for Longyearbyen, in very limited quantities, are available on this link:  https://bit.ly/2KNcIha. Fans under 18 will be admitted into the venue through a separate entrance and will view the show from the area suitable for their tickets.
ULTIMATE FAN EXPERIENCE UPGRADES, for the most personal fan experience ever, are available in limited quantities on this tour!
ULTIMATE FAN EXPERIENCE UPGRADES are upgrades to the general admission tickets – this means owners of an ULTIMATE FAN EXPERIENCE UPGRADE must also hold a general admission ticket (sold separately).
Upgrades are available exclusively on The Kingdom of Steel (Europe) in a LIMITED NUMBER per show!
To order your ULTIMATE FAN EXPERIENCE Upgrade click HERE
Follow MANOWAR on manowar.com , Facebook and Twitter for all tour dates and constant updates.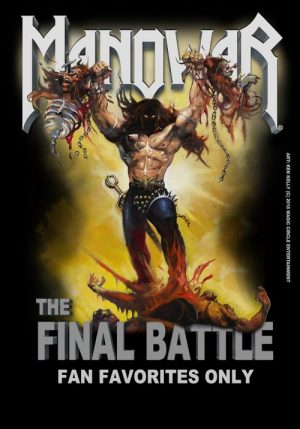 The Final Battle World Tour 2019 – Upcoming Tour Dates:
Fri, March 29, 2019 – Jahrhunderthalle – Frankfurt, Germany
Sat, March 30, 2019 – Westfalenhalle 1 – Dortmund, Germany
Wed, April 3, 2019 – Velodrom – Berlin, Germany
Fri, April 5, 2019 – Hanns-Martin-Schleyer-Halle – Stuttgart, Germany (rescheduled date)
Sat, April 6, 2019 – Zenith – Munich, Germany
Tue, April, 09, 2019 – Scandic Scene – Hamar, Norway
Wed, April 10, 2019 – Scandic Scene – Hamar, Norway
Fri, April 12, 2019 – Konserthuset – Stavanger, Norway
Sat, April 13, 2019 – USF Verftet – Bergen, Norway
Sun, April 14, 2019 – USF Verftet – Bergen, Norway
Tue, April 16, 2019 – Kulturhuset – Longyearbyen, Norway