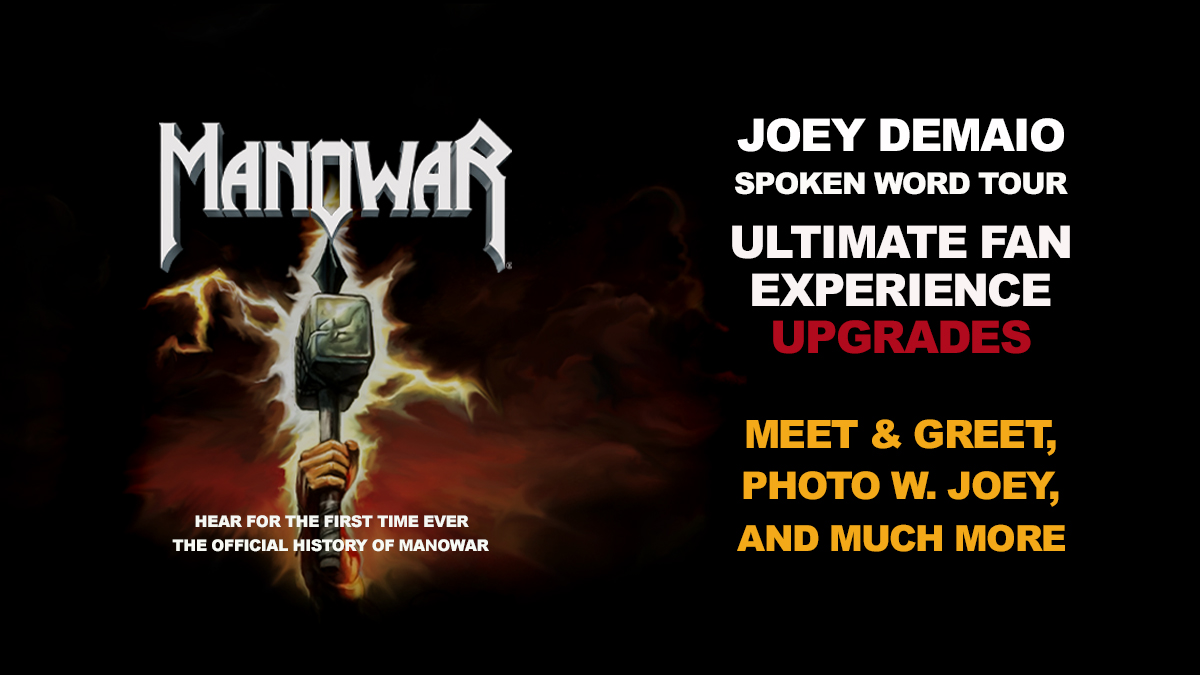 For all of you who have been asking – the wait is over!  A limited number of ULTIMATE FAN EXPERIENCE UPGRADES for Joey DeMaio's first ever Spoken Word Tour are now available!
These ULTIMATE FAN EXPERIENCE UPGRADES offer many truly unforgettable features for die-hard fans:
– Meet and greet & personal chat with Joey DeMaio, with the opportunity to ask your MANOWAR history related
question in a private setting!
– Photo with Joey DeMaio
– Personalized autographed item from MANOWAR's vaults
– Personalized autographed copy of MANOWAR's upcoming Pictorial History book; a limited edition hardcover
book with over 200 pages of photos from the MANOWAR archives (release set for Fall 2019)
– Exclusive collectible laminate
– Drink voucher for 2 drinks
ULTIMATE FAN EXPERIENCE UPGRADES are upgrades to the general admission tickets – this means owners of an ULTIMATE FAN EXPERIENCE UPGRADE must also hold a general admission ticket (sold separately).
Upgrades are available exclusively at The Kingdom of Steel (Europe). To order your Upgrade click HERE
For ticket info and more go to www.manowar.com/tour
Join Joey DeMaio in an intimate setting unfold "The Blood Of The Kings" – the history of MANOWAR – live, onstage and in person, in a captivating one-man multimedia show, featuring rare photos and videos from MANOWAR's archives! Hear little known stories about the glory and the battles; the secrets, and the triumphs of steel; life on the road and in the studio – told straight from the source!
"The Blood Of The Kings" Spoken Word Tour is a rare, personal look inside the exceptional career of one of the most iconic, most enduring bands in Heavy Metal.
Follow MANOWAR on manowar.com , Facebook, Twitter and Instagram for all tour dates and constant updates.
Joey DeMaio: "The Blood of The Kings" Spoken Word Tour 2019 – Confirmed Dates:
NOV 01, 2019 – Technikum – Munich, Germany
NOV 02, 2019 – Kleine Meistersingerhalle – Nuremberg, Germany
NOV 03, 2019 – Liederhalle (Silchersaal) – Stuttgart, Germany
NOV 04, 2019 – Batschkapp – Frankfurt, Germany
NOV 05, 2019 – Savoy Theater Dusseldorf, Germany
NOV 07, 2019 – Christuskirche – Bochum, Germany
NOV 08, 2019 – Kleine Laeiszhalle – Hamburg, Germany
NOV 09, 2019 – Tempodrom (Kleine Arena) – Berlin, Germany
NOV 10, 2019 – Haus Leipzig – Leipzig, Germany
NOV 12, 2019 – Kulturfabrik – Esch/Alzette, Luxembourg
NOV 13, 2019 – Palladium – Malmö, Sweden
NOV 14, 2019 – Södra Teatern – Stockholm, Sweden
NOV 17, 2019 – Posten – Odense, Denmark