Manowarriors in Switzerland behold!
MANOWAR will return to Switzerland and headline Riverside Festival Aarburg with an exclusive mega-anniversary show! This special occasion will be MANOWAR's first-ever outdoor festival appearance in Switzerland.
The open-air performance will take place on Sunday, August 27, 2023, in Aarburg near Basel!

This will be the ONLY summer festival show for MANOWAR in Switzerland, Austria, and Germany on the band's CRUSHING THE ENEMIES OF METAL ANNIVERSARY TOUR 2023, which celebrates MANOWAR's over four decade-spanning career and hit albums such as "Battle Hymns", "Kings Of Metal", "The Triumph Of Steel", "Warriors Of The World" and many others.
"Finally, we can give the Swiss fans the mega outdoor production that makes fans from all over the world travel to our shows! We'll be bringing a set packed with fan favorites and our brand new stage production," said Joey DeMaio. "Joining MANOWAR on this tour for the first time will be legendary shred master Michael Angelo Batio on guitar. Get ready for the heaviest and most epic metal you've ever experienced!"
General ticket sale starts on December 2, 2022, at 10 AM CET on starticket.ch and ticketcorner.ch

Follow MANOWAR on manowar.com, Instagram, Facebook, and Twitter for constant updates, and subscribe to the official MANOWAR YouTube channel.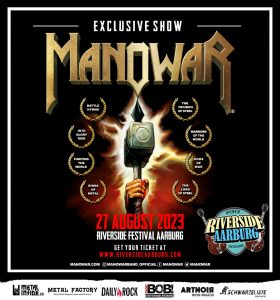 MANOWAR – Crushing The Enemies Of Metal Anniversary Tour 2023 – Confirmed Dates:

JAN 24, 2023 Pardubice, Czech Republic – Enteria Arena
JAN 26, 2023 Brno, Czech Republic – Hala Vodova
JAN 30, 2023 Tallinn, Estonia – Saku Arena
FEB 01, 2023 Espoo, Finland – Metro Areena
FEB 03, 2023 Gothenburg, Sweden – Partille Arena
FEB 06, 2023 Copenhagen, Denmark – Black Box Forum
FEB 08, 2023 Rotterdam, Netherlands – RTM Stage @ Rotterdam Ahoy
FEB 11, 2023 Nuremberg, Germany – Arena Nürnberger Versicherung
FEB 13, 2023 Zwickau, Germany – Stadthalle
FEB 15, 2023 Mannheim, Germany – SAP Arena
FEB 17, 2023 Neu-Ulm, Germany – Ratiopharm Arena
FEB 18, 2023 Oberhausen, Germany – Rudolf Weber-Arena
FEB 19, 2023 Bremen, Germany – Halle 7 @ ÖVB-Arena
FEB 22, 2023 Oslo, Norway – Spektrum
FEB 25, 2023 Berlin, Germany – Velodrom
JUN 03, 2023 Istanbul, Turkey – Maçka Küçükçiftlik Park
AUG 27, 2023 Aarburg, Switzerland – Riverside Festival Aarburg