Scroll down for Russian
JOEY DEMAIO
Much-loved band MANOWAR has decided to repeat the Russian tour in the next year. On this occasion, we decided to talk to its main ideologue, before the Valkyries took him to Valhalla.
Joey, are you really going back to Russia with large tour over the cities?
We always felt sorry that we only perform in Moscow and St. Petersburg. I mean, playing in these great cities is, of course, a dream in itself, but we always knew that there are still a lot of fans in Russia who can't get there. We talked to various promoters that we want to go through all the cities like Scorpions. Finally, we found promoters who said, "Yes, it can be arranged." And it was amazing! You can't even imagine what we felt playing in cities like Novosibirsk! There are wonderful people in Novosibirsk! And in Vladivostok and Khabarovsk and Yekaterinburg… Well, of course we were in Yekaterinburg before. But we wanted to get to Samara, Rostov-on-don and, of course, Krasnodar. Although, we have also been to Krasnodar. In general, it was fucking fantastic! People were Manowarrriors to the max.
I think they were grateful that you came all this long way.
And we can't wait to do it again! We want to go around as many cities as possible, because Russian Manowarriors are the best fans, without a doubt. And you'll see it in the movie we're releasing. And after the new tour, we will release a live album and another movie. Exclusively in Russia.
Did you go sightseeing on the last tour?
Well, I saw the Moscow airport in details. We had endless connecting flights through Moscow. You perform somewhere in Siberia, and you need to fly through Moscow to get to the Urals later. In general, it is impossible to see anything else during tours. But we don't make tours to go sightseeing! MANOWAR concert is a show where you put all your heart, all your soul, all your fucking blood. And after that, you're just dead. You go back to the hotel and pass out, and you have to get up early in the morning, because you probably have to fly all the next day long. Sometimes we were on the road straight for 9-10 hours.
MANOWAR are proud that you have not changed yourselves for all the years. Haven't you ever been tempted to play or look different? Many metal bands of the '80s gave into this temptation, fearing the decline in popularity of Metal in the' 90s.
And that's why they're fucked today! They were not committed to their music, their faith in music. This is exactly what we call "false metal". They're fucked, and we're still here, growing and getting stronger.
Haven't you even thought about getting a haircut?
No.
Cool. So which of the great ones stayed true to themselves?
You know them. Scorpions, AC/DC, MANOWAR. Yes, this is how it happens. But to be honest, I don't care about other bands. And believe me, brother, they don't care about us. People believe that the ballads killed Heavy Metal. Bullshit! Scorpions have one of the most beautiful ballads ever written by musicians. But they also have the hardest fucking songs you can imagine. A beautiful song is a beautiful song, whether it's a slow ballad with an orchestra and acoustic guitars, or it starts softly, then the instruments come in, and then the whole power of the band comes in. Beautiful music is beautiful music. And shit is shit.
But when Scorpions released the ballad Wind of Change, they became much more popular around the world. Weren't they tempted to write more ballads after that?
I don't think they wrote a ballad on purpose – let's make it a hit. They just made a beautiful song, and many of those who do not listen to Hard Rock and Heavy Metal, appreciated its beauty and loved it. And that's fine; they didn't write the song to make it popular. We're talking about the band that has been successful since the early ' 70s. They didn't have to prove anything to anyone and kiss someone's ass. But brother, you must understand something. The world is full of envious fuckin' losers. They're assholes who sit at home all day fiddling with their fuckin' balls, surfing the Internet, and writing shit about other people. They're finished. And they can't accept this fact, so they will find a way to shit on someone else's success and talent.
At one of your concerts in Moscow, I noticed that you pull the girls out of the audience and take them backstage. I always wondered what you were doing with them. Eat? Sacrifice to Odin?
Strictly opposite! We make them very happy. Our problem is that we love girls and treat them as they deserve. We have the atmosphere of Disney cartoons, just like in "Cinderella". For us, any girl is a Princess. That's why we have more girls at our shows than any other Metal band.
Have you ever counted how many women you've made happy in this way in your entire life?
You mean, from 10 years to this day? I think about 20,000. I've never counted, but it's an educated guess.
But brutal masculinity is no longer in fashion…
You see, people don't understand this! This is nonsense! We don't believe in any brutal masculinity. We are epic heroes, like in the movies. We are the good guys who come to a city captured by scoundrels, rescue the inhabitants, banish the scoundrels, and at the end drive off into the sunset, as befits heroes, along with beautiful rescued girls. It's a classic storyline, and it's a typical MANOWAR tour.
Have you had any problems with feminists?
It's not a problem; it's just the thing people don't understand. We would never disrespect a woman. Hell, we would never disrespect anyone! We're not like that. Our business is music and fun, we respect everyone, men and women.
Joey, you've always been such a perfect rock star with all the attributes – muscles, motorcycles, sex and alcohol. This lifestyle takes a lot of effort, and you're not young anymore. Didn't slow down?
Age is a state of mind, not of a body. When I was at school, we had guys aged 16-17, they already behaved as if they were a hundred years old. And they looked the same way. At the same time, I have met people all over the world who are over 80, but they did not think of themselves as old and looked great! Young! Because they kept themselves in shape. You know what I mean? I exercise every day, and I pull iron three times a week. If I take my shirt off now, any 18-year-old boy will cry with envy. So I intend to continue doing the same thing – performing and playing music until the last day.
By the way, you've always sung a lot about heroic death. Are you afraid of death?
No. Because if you are afraid all the time, you will not enjoy life. Bruce Lee, I think it was him, said that only those who are not afraid of death, really enjoy life. I'm walking down the street and I'm happy that I can just walk. I'm happy that I have home and I can look up at the sky and say "Wow! Today is a great powerful day!" I'll go to the gym and work out, and then I'll go home and take a shower and eat something. I'll go into the Studio and play my fucking guitar and hope I write something inspiring. Something that will allow people to be happy, to be happy for themselves, to become more positive. In short, I intend to live every day 100%. There's no reason for me to start worrying about death, just when you think about how much I fly and travel. I'm always on the plane, in the car, on the train or on the bus. And I have a much better chance of dying with this lifestyle. It's easier not to think about it. After all, a car might hit you at your own door.
Well, after you die, you're obviously going to feast with Odin in Valhalla?
I hope so. I like to think that our soul goes somewhere, leaving the body. That this energy doesn't just disappear. I don't know exactly where it's going, but if I die before you do, I'll let you know when I get there.
Yes, please give me a sign.
I'll call you "Bro, we're here waiting for you!"
What is the greatest moment you will remember before you die?
To be honest, it's hard to choose one. I am very lucky in this life. I'll just be grateful that I wrote music that people all over the world liked. Liked so much that they decorated their bodies with tattoos with our logo and our lyrics. And special moments… Our record label recorded sir Christopher Lee, made his dream come true – he always wanted to sing, and I was his first producer. We recorded with Orson Welles… In general, I was very lucky.
Translation by Kirill Mizonov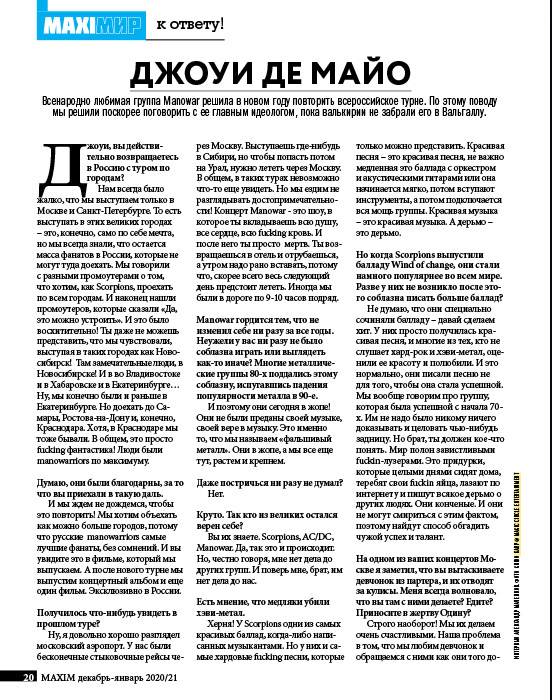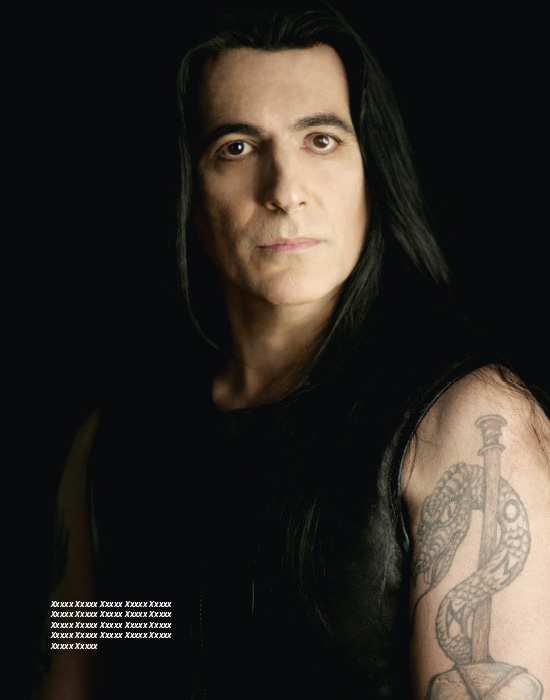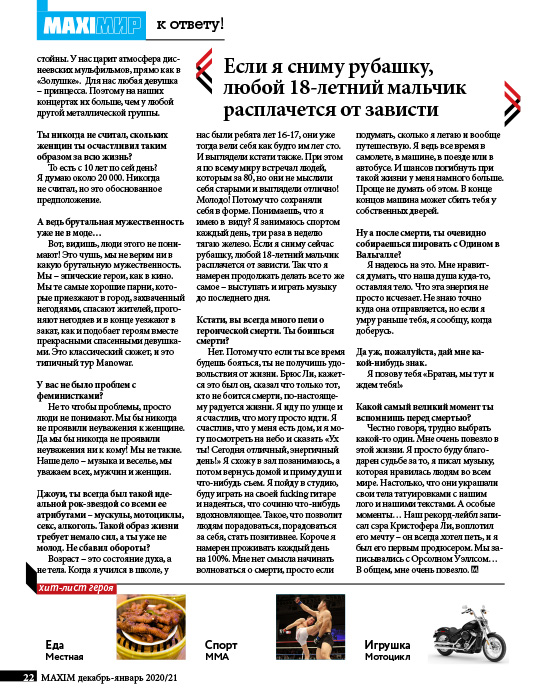 >>>
ДЖОУИ ДЕ МАЙО
Всенародно любимая группа MANOWAR решила в новом году повторить всероссийское турне. По этому поводу мы решили поскорее поговорить с ее главным идеологом, пока валькирии не забрали его в Вальгаллу.
Джоуи, вы действительно возвращаетесь в Россию с туром по городам?
Нам всегда было жалко, что мы выступаем только в Москве и Санкт-Петербурге. То есть выступать в этих великих городах – это, конечно, само по себе мечта, но мы всегда знали, что остается масса фанатов в России, которые не могут туда доехать. Мы говорили с разными промоутерами о том, что хотим, как Scorpions, проехать по всем городам. И наконец нашли промоутеров, которые сказали «Да, это можно устроить». И это было восхитительно! Ты даже не можешь представить, что мы чувствовали, выступая в таких городах как Новосибирск! Там замечательные люди, в Новосибирске! И в во Владивостоке и в Хабаровске и в Екатеринбурге… Ну, мы конечно были и раньше в Екатеринбурге. Но доехать до Самары, Ростова-на-Дону и, конечно, Краснодара. Хотя, в Краснодаре мы тоже бывали. В общем, это просто fucking фантастика! Люди были Manowarriors по максимуму.
Думаю, они были благодарны, за то что вы приехали в такую даль.
И мы ждем не дождемся, чтобы это повторить! Мы хотим объехать как можно больше городов, потому что русские Manowarriors самые лучшие фанаты, без сомнений. И вы увидите это в фильме, который мы выпускаем. А после нового турне мы выпустим концертный альбом и еще один фильм. Эксклюзивно в России.
Получилось что-нибудь увидеть в прошлом туре?
Ну, я довольно хорошо разглядел московский аэропорт. У нас были бесконечные стыковочные рейсы через Москву. Выступаешь где-нибудь в Сибири, но чтобы попасть потом на Урал, нужно лететь через Москву. В общем, в таких турах невозможно что-то еще увидеть. Но мы ездим не разглядывать достопримечательности! Концерт MANOWAR – это шоу, в которое ты вкладываешь всю душу, все сердце, всю fucking кровь. И после него ты просто мертв. Ты возвращаешься в отель и отрубаешься, а утром надо рано вставать, потому что, скорее всего весь следующий день предстоит лететь. Иногда мы были в дороге по 9-10 часов подряд.
MANOWAR гордится тем, что не изменил себе ни разу за все годы. Неужели у вас ни разу не было соблазна играть или выглядеть как-то иначе? Многие металлические группы 80-х поддались этому соблазну, испугавшись падения популярности металла в 90-е.
И поэтому они сегодня в жопе! Они не были преданы своей музыке, своей вере в музыку. Это именно то, что мы называем «фальшивый металл». Они в жопе, а мы все еще тут, растем и крепнем.
Даже постричься ни разу не думал?
Нет.
Круто. Так кто из великих остался верен себе?
Вы их знаете. Scorpions, AC/DC, MANOWAR. Да, так это и происходит. Но, честно говоря, мне нет дела до других групп. И поверь мне, брат, им нет дела до нас. Есть мнение, что медляки убили хэви-метал. Херня! У Scorpions одни из самых красивых баллад, когда-либо написанных музыкантами. Но у них и самые хардовые fucking песни, которые только можно представить. Красивая песня – это красивая песня, не важно медленная это баллада с оркестром и акустическими гитарами или она начинается мягко, потом вступают инструменты, а потом подключается вся мощь группы. Красивая музыка – это красивая музыка. А дерьмо – это дерьмо.
Но когда Scorpions выпустили балладу Wind of change, они стали намного популярнее во всем мире. Разве у них не возникло после этого соблазна писать больше баллад?
Не думаю, что они специально сочиняли балладу – давай сделаем хит. У них просто получилась красивая песня, и многие из тех, кто не слушает хард-рок и хэви-метал, оценили ее красоту и полюбили. И это нормально, они писали песню не для того, чтобы она стала успешной. Мы вообще говорим про группу, которая была успешной с начала 70- х. Им не надо было никому ничего доказывать и целовать чью-нибудь задницу. Но брат, ты должен кое-что понять. Мир полон завистливыми fuckin-лузерами. Это придурки, которые целыми днями сидят дома, теребят свои fuckin яйца, лазают по интернету и пишут всякое дерьмо о других людях. Они конченые. И они не могут смириться с этим фактом, поэтому найдут способ обгадить чужой успех и талант.
На одном из ваших концертов Москве я заметил, что вы вытаскиваете девчонок из партера, и их отводят за кулисы. Меня всегда волновало, что вы там с ними делаете? Едите? Приносите в жертву Одину?
Строго наоборот! Мы их делаем очень счастливыми. Наша проблема в том, что мы любим девчонок и обращаемся с ними как они того достойны. У нас царит атмосфера диснеевских мульфильмов, прямо как в «Золушке». Для нас любая девушка – принцесса. Поэтому на наших концертах их больше, чем у любой другой металлической группы.
Ты никогда не считал, скольких женщин ты осчастливил таким образом за всю жизнь?
То есть с 10 лет по сей день? Я думаю около 20 000. Никогда не считал, но это обоснованное предположение.
А ведь брутальная мужественность уже не в моде…
Вот, видишь, люди этого не понимают! Это чушь, мы не верим ни в какую брутальную мужественность. Мы – эпические герои, как в кино. Мы те самые хорошие парни, которые приезжают в город, захваченный негодяями, спасают жителей, прогоняют негодяев и в конце уезжают в закат, как и подобает героям вместе прекрасными спасенными девушками. Это классический сюжет, и это типичный тур MANOWAR.
У вас не было проблем с феминистками?
Не то чтобы проблемы, просто люди не понимают. Мы бы никогда не проявили неуважения к женщине. Да мы бы никогда не проявили неуважения ни к кому! Мы не такие. Наше дело – музыка и веселье, мы уважаем всех, мужчин и женщин.
Джоуи, ты всегда был такой идеальной рок-звездой со всеми ее атрибутами – мускулы, мотоциклы, секс, алкоголь. Такой образ жизни требует немало сил, а ты уже не молод. Не сбавил обороты?
Возраст – это состояние духа, а не тела. Когда я учился в школе, у нас были ребята лет 16-17, они уже тогда вели себя как будто им лет сто. И выглядели кстати также. При этом я по всему миру встречал людей, которым за 80, но они не мыслили себя старыми и выглядели отлично! Молодо! Потому что сохраняли себя в форме. Понимаешь, что я имею в виду? Я занимаюсь спортом каждый день, три раза в неделю тягаю железо. Если я сниму сейчас рубашку, любой 18-летний мальчик расплачется от зависти. Так что я намерен продолжать делать все то же самое – выступать и играть музыку до последнего дня.
Кстати, вы всегда много пели о героической смерти. Ты боишься смерти?
Нет. Потому что если ты все время будешь бояться, ты не получишь удовольствия от жизни. Брюс Ли, кажется это был он, сказал что только тот, кто не боится смерти, по-настоящему радуется жизни. Я иду по улице и я счастлив, что могу просто идти. Я счастлив, что у меня есть дом, и я могу посмотреть на небо и сказать «Ух ты! Сегодня отличный, энергичный день!» Я схожу в зал позанимаюсь, а потом вернусь домой и приму душ и что-нибудь съем. Я пойду в студию, буду играть на своей fucking гитаре и надеяться, что сочиню что-нибудь вдохновляющее. Такое, что позволит людям порадоваться, порадоваться за себя, стать позитивнее. Короче я намерен проживать каждый день на 100%. Мне нет смысла начинать волноваться о смерти, просто если подумать, сколько я летаю и вообще путешествую. Я ведь все время в самолете, в машине, в поезде или в автобусе. И шансов погибнуть при такой жизни у меня намного больше. Проще не думать об этом. В конце концов машина может сбить тебя у собственных дверей.
Ну а после смерти, ты очевидно собираешься пировать с Одином в Вальгалле?
Я надеюсь на это. Мне нравится думать, что наша душа куда-то, оставляя тело. Что эта энергия не просто исчезает. Не знаю точно куда она отправляется, но если я умру раньше тебя, я сообщу, когда доберусь.
Да уж, пожалуйста, дай мне какой-нибудь знак.
Я позову тебя «Братан, мы тут и ждем тебя!»
Какой самый великий момент ты вспомнишь перед смертью?
Честно говоря, трудно выбрать какой-то один. Мне очень повезло в этой жизни. Я просто буду благодарен судьбе за то, я писал музыку, которая нравилась людям во всем мире. Настолько, что они украшали свои тела татуировками с нашим лого и нашими текстами. А особые моменты… Наш рекорд-лейбл записал сэра Кристофера Ли, воплотил его мечту – он всегда хотел петь, и я был его первым продюсером. Мы записывались с Орсолном Уэллсом… В общем, мне очень повезло.
With kind permission of Maxim Magazine Russia.
www.maximonline.ru