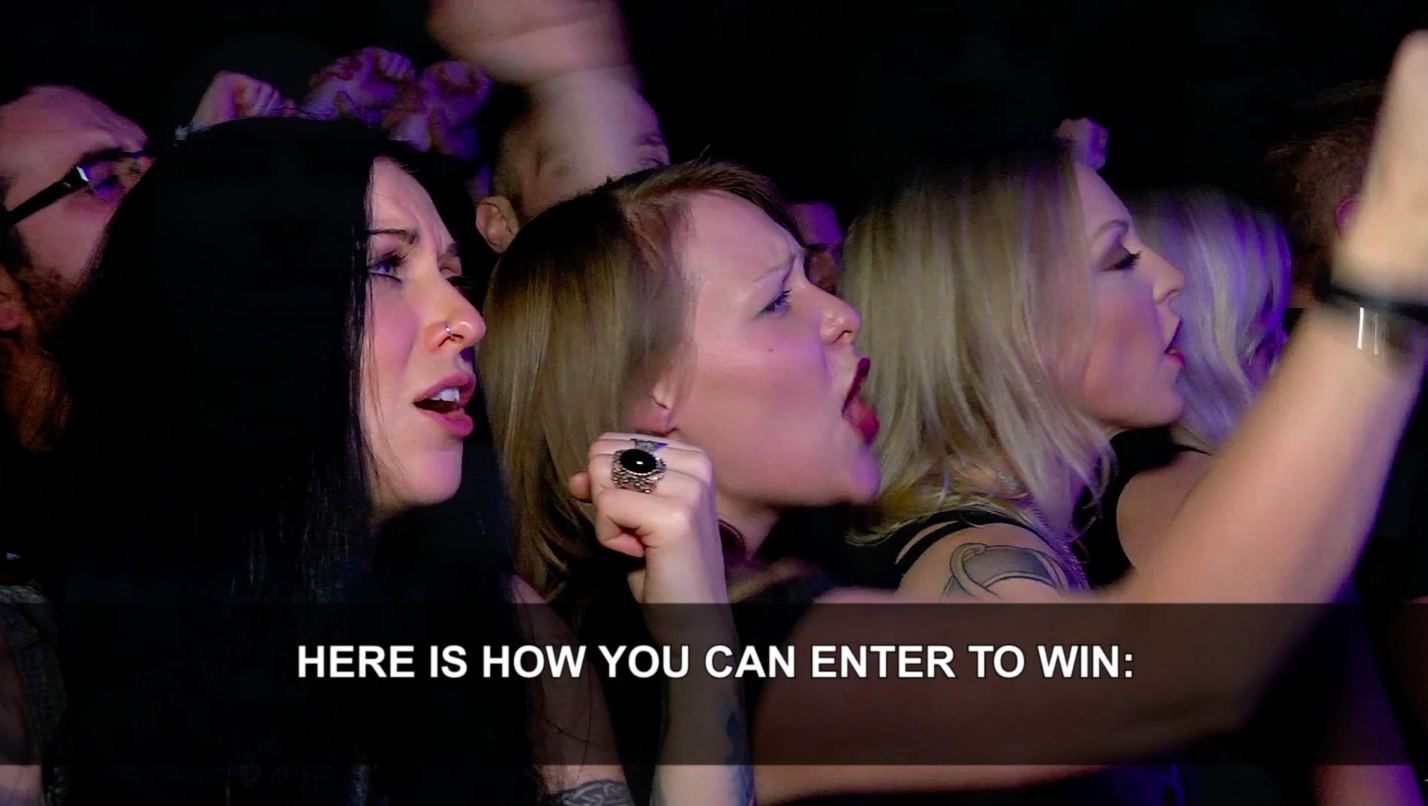 .
How To Join:
1. Send us a picture of your friend or both of you by email as described below and tell us your story: Who is the friend you want to bring on this journey, and why does he/she deserve it more than anybody else?
For a full description of the contest read HERE: http://bit.ly/1NgfFVB
Your photo can feature any material of your choice that meets the Terms and Conditions of this contest as described in these Terms And Conditions.
DO NOT use copyrighted material or materials that can infringe upon local laws or on other people's rights. Please photograph horizontally – that's easier for us to integrate!
Read the Terms and Conditions of this contest below.
2. Send your photo to frontrow@manowar.com.
Include "Take Me To The Gods And Kings World Tour 2016" in the title of your email.
And don't forget to tell us your full name in the email. If you want to tell us a bit more about yourself, your age, where you live etc., please do so!
Terms and Conditions:
To participate in this contest you must read the Terms and Conditions of this contest as they are essential to qualify you, and submit your photo(s) by email to frontrow@manowar.com as described above.
If the picture features other persons than you, you are responsible for taking all steps necessary to protect the rights of any and all persons depicted, including but not limited to obtaining their permission. For a photo in which a person other than you is recognizable, you must be able to provide a written consent by this person upon Magic Circle Entertainment's request. If the subject is a minor, the consent must be signed by the subject's parent or legal guardian.
You must be the owner of all photos submitted and must be able to submit proof at any time, if requested. We accept photos taken by you or taken of you. However, since someone else usually takes photos of you, you MUST have their consent to use the picture that you submit.
As such, you are required to comply with all U.S. and international laws.
Digital photographs should be taken at the highest resolution possible. Photographs must be in a .jpeg or .jpg format. We recommend all files to be between 3 megabytes and 8 megabytes and minimum 1600 pixels wide (if a horizontal image) or 1600 pixels tall (if vertical image).
High quality scans of non-digital photographs are acceptable and must follow the same guidelines.
This contest is open to entrants of all ages. Entrants under 18 years of age require the permission of a parent or legal guardian. By entering the contest, entrants under 18 years of age confirm that they have obtained the permission of a parent or guardian.
As a contestant, you indemnify Magic Circle Entertainment and its affiliates for any violations in connection with the material(s) submitted by you and the content featured therein. Furthermore, you agree to hold harmless Magic Circle Entertainment, its affiliates, subsidiaries, directors, officers, agents and/or employees against any and all claims, judgments, damages, liabilities, penalties and fines of any kind, stemming from any discovery that the submitted material(s) violate any and all applicable laws.
Copyright in all materials submitted for this contest will remain with the owner. Materials reproduced may include a videographer/photographer credit where feasible and at the discretion of Magic Circle Entertainment.
With your entry into this contest, you grant Magic Circle Entertainment and those authorized by them, worldwide, irrevocable, perpetual, non-exclusive license to display, distribute, reproduce and create derivative works of your entry, in whole or in part, in any media now existing or later developed, for any and all purposes in connection with MANOWAR and Magic Circle Entertainment.
All rights and permissions granted to Magic Circle Entertainment by you are granted free of charge and Magic Circle Entertainment or its affiliates will not be required to pay any consideration or seek any additional approval in connection with the exploitation of these rights. With the submission of your material(s), you grant Magic Circle Entertainment and its affiliates the right to edit the material in any form necessary for the described purposes.
Contest submissions must not contain personally identifiable information such as last names, addresses, phone numbers, screen names, email addresses. You must not engage in any violent, dangerous or illegal behavior in creating a contest entry. Contest entries must not contain inappropriate content, including but not limited to pornographic or violent material, or materials that promote violence. Contest entries must not defame or invade the privacy or publicity rights of any person, living or deceased, or otherwise infringe upon a person's personal or proprietary rights.
Magic Circle Entertainment reserve the right to reject any submission which we, in our sole discretion, deem offensive, obscene, provocative, violate the law or are otherwise unsuitable for use.
Once submitted, you have granted us permission to use your material as per these Terms and Conditions, even if you decide to remove your submission from its platform (if applicable) at any time after submitting your contest entry to us. We cannot notify you of the receipt of your submission and will not be able to respond to inquiries concerning their receipt.
NO PURCHASE IS NECESSARY TO ENTER OR WIN. MAKING A PURCHASE DOES NOT INCREASE YOUR CHANCES OF WINNING. ALL FEDERAL, STATE, LOCAL AND MUNICIPAL LAWS AND REGULATIONS APPLY. VOID WHERE PROHIBITED.
Display or publication of your entry on Magic Circle Entertainment's or any of its affiliate's websites does not indicate that you will be selected as a winner.
All information detailing how to enter this contest forms are part of these Terms and Conditions.
Magic Circle Entertainment reserves the right to amend these Terms and Conditions at any time without prior notice.
Throughout these Terms and Conditions, the words "we", "us" and "our" refer to MAGIC CIRCLE ENTERTAINMENT, and all of our officers, directors, employees, agents, attorneys and affiliates.
By submitting images to this contest, you are deemed to have reviewed, read and accept this contest's Rules and Terms and Conditions.