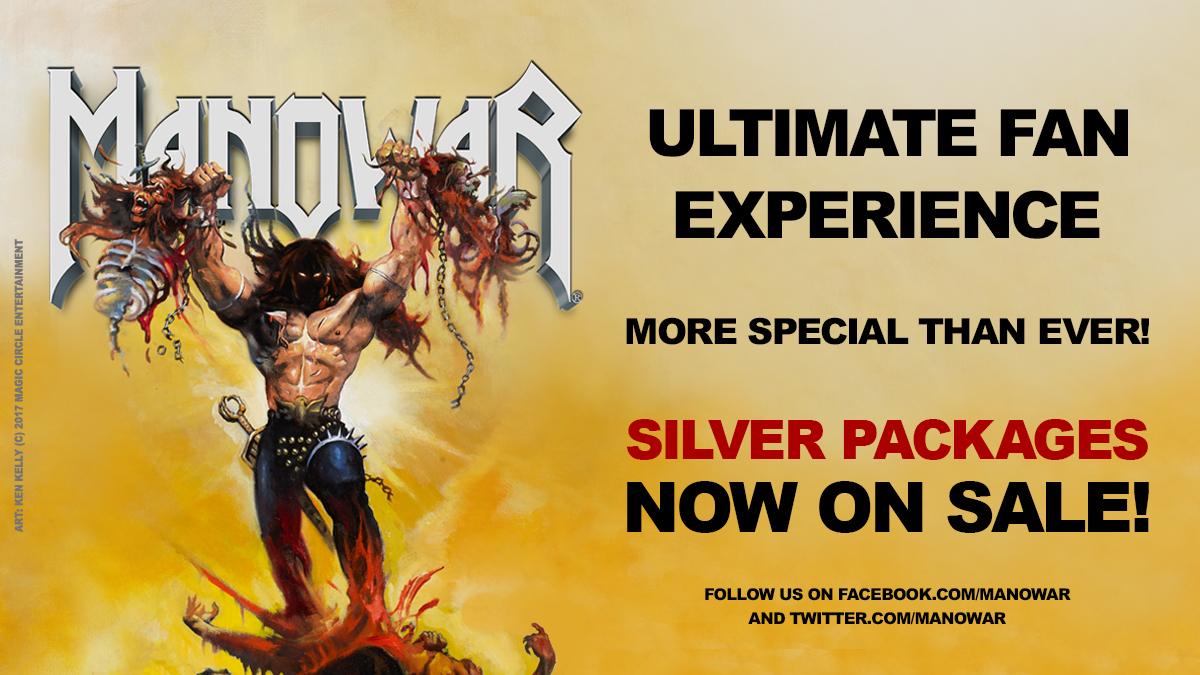 Due to the many fan requests that we have received we are proud to now offer a limited number of ULTIMATE FAN EXPERIENCE SILVER PACKAGES for the Final Battle World Tour 2019!
The newly added SILVER PACKAGE offers many truly unforgettable features:
Admission to the show
Individual photo with MANOWAR, taken by our official photographer, right before the show
Complementary admission for two to one date on Joey DeMaio's Spoken Word Tour "The Blood Of The Kings"
Early admission into the venue: access the venue before doors open
Private crowd-free merchandise shopping upon early admission (subject to availability in Russia, Ukraine, Belarus)
On site, Ultimate Fan Host guiding you in person through the unique experiences offered
Collectible exclusive laminate with lanyard
Separate entrance where possible
ULTIMATE FAN EXPERIENCES are available exclusively on The Kingdom of Steel (Europe).
To order your ULTIMATE FAN EXPERIENCE SILVER PACKAGE click HERE
Follow MANOWAR on manowar.com , Facebook, Twitter and Instagram for all tour dates and constant updates.
The Final Battle World Tour 2019 – Confirmed Tour Dates:
Mon, February 25, 2019 – Hangar 11 – Tel Aviv, Israel
Fri, Mar 1, 2019 – Expo Center – Novosibirsk, Russia
Sun, Mar 3, 2019 – Fetisov Arena – Vladivostok, Russia
Tue, Mar 5, 2019 – Erofey Arena – Khabarovsk, Russia
Thu, Mar 7, 2019 – Teleclub – Yekaterinburg, Russia
Sun, Mar 10, 2019 – MTL Arena – Samara, Russia
Tue, Mar 12, 2019 – Yubileyny Sports Palace – St. Petersburg, Russia
Thu, Mar 14, 2019 – VTB Dynamo Arena – Moscow, Russia
Sat, Mar 16, 2019 – KSK Express – Rostov-on-Don, Russia
Mon, Mar 18, 2019 – DS Olymp – Krasnodar, Russia
Thu, Mar 21, 2019 – Sports Palace – Kiev, Ukraine
Sat, Mar 23, 2019 – Sports Palace – Minsk, Belarus
Mon, Mar 25, 2019 – Hala Vodova – Brno, Czech Republic
Tue, Mar 26, 2019 – RT Torax Arena – Ostrava, Czech Republic
Fri, March 29, 2019 – Jahrhunderthalle – Frankfurt, Germany
Sat, March 30, 2019 – Westfalenhalle 1 – Dortmund, Germany
Mon, April 1, 2019 – Valby-Hallen – Copenhagen, Denmark
Wed, April 3, 2019 – Velodrom – Berlin, Germany
Fri, April 5, 2019 – Hanns-Martin-Schleyer-Halle – Stuttgart, Germany (rescheduled date)
Sat, April 6, 2019 – Zenith – Munich, Germany
Tue, April, 09, 2019 – Scandic Scene – Hamar, Norway
Wed, April 10, 2019 – Scandic Scene – Hamar, Norway
Fri, April 12, 2019 – Konserthuset – Stavanger, Norway
Sat, April 13, 2019 – USF Verftet – Bergen, Norway
Sun, April 14, 2019 – USF Verftet – Bergen, Norway
Tue, April 16, 2019 – Kulturhuset – Longyearbyen, Norway
Fri, April 19, 2019 – O2 Academy – Birmingham, England
Sat, April 20, 2019 – O2 Academy – Birmingham, England
Sat, June 8, 2019 – Hallenstadion – Zurich, Switzerland
Fri, June 14, 2019 – Plateia Nerou – Athens, Greece
Sun, June 16, 2019 – Arena Armeec – Sofia, Bulgaria
Fri, June 21, 2019 – Hellfest – Clisson, France
Thu, July 18, 2019 – Gasklockorna – Gävle, Sweden
Sat, July 20, 2019 – Maçka Küçükçiftlik Park – Istanbul, Turkey